Summer School for Outstanding Postgraduate and Senior Undergraduate Students: Call for Applications
The Faculty of Construction and Environment (FCE) of The Hong Kong Polytechnic University (PolyU), invites outstanding postgraduate and senior undergraduate students from leading universities around the world in disciplines related to construction and environment to join our Summer School from 20 to 26 August 2012 in Hong Kong.
Objective
To provide outstanding postgraduate and senior undergraduate students from leading universities around the world in disciplines related to construction and environment an opportunity to check out FCE as a possible destination for their future research studies.
Who can apply
Full-time postgraduate students pursuing a Master's degree programme.
Fresh graduates of Bachelor degree programmes at the time of the FCE Summer School.
Senior undergraduate students who are in the final stage of undergraduate studies at the time of the FCE Summer School (e.g. have at least completed 3 years of a 4-year Bachelor degree programme).
The applicants should have a strong interest in a research/academic career, excellent communication abilities as well good leadership potential.
The academic performance of successful applicants is expected to be within the top 10% of students from leading universities (e.g. Chinese mainland universities of the 985 project).
How to submit applications
The application materials should include a duly completed application form, a Curriculum Vitae, academic transcripts, and degree certificates (if any). In addition, a one-page personal statement describing the applicant's research/career aspirations needs to be submitted.
Download application form: https://www.polyu.edu.hk/fce/download/FCE_SS_Application Form.doc
Details of the Summer School
A short course on research frontiers in disciplines related to construction and environment plus other activities (e.g. laboratory and site visits) will be offered by FCE. The short course will be delivered in English.

Students who are interested in furthering their studies in disciplines related to construction and environment at PolyU can also take advantage of this opportunity to explore potential research topics with academic staff of FCE/PolyU.
Further details of the Summer School can be found at:
https://www.polyu.edu.hk/fce/notice/FCE_SS.html
Financial support
Free accommodation (shared room) will be provided to all admitted students.  Economy class return air tickets or train tickets will also be provided on a reimbursement basis.   The reimbursement ceiling for students from within and outside the Pearl-river delta region will be HK$1,000 and HK$4,000 respectively.
Enquiry
For enquiries, please contact Ms Connie Man at clconnie@polyu.edu.hk or fax 852-2362 2574 or telephone 852- 3400 3878.
Application deadline
Interested students are welcome to submit an application to the Faculty Office by email (clfce@polyu.edu.hk) or fax (852-2362 2574) on or before 15 May 2012. Incomplete or late applications will not be considered.

FCE Alumni teaching overseas
PhD graduates from the Faculty of Construction and Environment have been widely sought after by various academic and industrial organizations. Apart from securing teaching posts in leading universities in China, a significant number of our PhD graduates have been offered teaching posts outside China. Below are the profiles of several recent PhD graduates of the Faculty who are now teaching at universities outside China.
Dr Chen Zhen
Building on his expertise in construction engineering and management, Dr Chen is now the Lecturer of Facilities Management in the School of the Built Environment at Heriot-Watt University, dubbed by the Sunday Times as the Scottish University of the Year 2011-12. He is on the editorial board for several international journals. He is also a management committee member of the European Cooperation in Science and Technology (COST) Action on Megaprojects. A visiting scholar to ETH Zurich in 2011, Dr Chen's PhD study on environmental management in construction was supervised by Prof. Heng Li and Prof. Conrad T.C. Wong.
Dr Paul Bo Xia
Supervised by Prof. Albert Chan, Paul received his PhD in 2010 and has started his career as a Lecturer at the School of Civil Engineering and Built Environment of the Queensland University of Technology (QUT). His research interests are project-delivery systems (design-build in particular), construction management, and sustainable buildings. Supported by the Education Trust of the Royal Institution of Chartered Surveyors (RICS), he is currently investigating case studies of green retirement villages in Australia.
Dr Rebecca Yang
Since receiving her PhD from the Department of Building and Real Estate in 2010, Dr Yang has worked as a Lecturer in Construction Management at the School of Architecture and Building in Deakin University, where she teaches Project Management and Stakeholder Management. Her PhD on the same subjects was supervised by Prof. Geoffrey Shen. Her main research explores the social ecology system by applying scientific methods to the study of a wide array of recurring social, behavioral, and environmental problems. Currently, she is investigating community engagement and leadership on two government-funded projects.
Dr Yu Tao
After getting his PhD from the Department of Civil and Structural Engineering in 2007, Dr Yu stayed on to work as a Research Associate, Postdoctoral Fellow, and Research Fellow under the supervision of Professor Jin-Guang Teng until February 2012. He then left for a Lectureship at the University of Wollongong in Australia. He is grateful to his supervisors, particularly Dr Yuk-lung Wong and Prof. Jin-Guang Teng, for the opportunities he has been given at PolyU, which has allowed him to pursue his research interests in emerging structural materials and systems.
We wish all our graduates the best in their respective careers and look forward to their accomplishments in the future.

BRE academic attends international forums on sustainable urban development
The China-Europa Forum organized 2 roundtables on urban sustainable development in March 2012. One took place in Brussels on 8 March; the other in Shanghai on 23 March. Prof. Edwin H. W. CHAN of the Department of Building and Real Estate participated in both of them.  Co-organised by Friends of Europe and EUROCHAMBRES and co-funded by the European Commission, the roundtable in Brussels was part of a programme to understand China better. Two main topics were explored: "EU-China's Partnership for Sustainable Urbanisation" and "the Challenge of China's Urban Billion." Over 40 senior discussants representing a wide array of stakeholders, including policymakers, business leaders and academics from Europe and China, participated in the roundtable. Each session was opened by remarks from introductory discussants, among whom were WU Hailong, Ambassador and Head of the Mission of the People's Republic of China to the European Union (EU); LI Tie, Director General of the China Centre for Urban Development of the National Development and Reform Commission (NDRC); and ZHANG Jun, Deputy Director of the Chengdu Environmental Protection Bureau, China.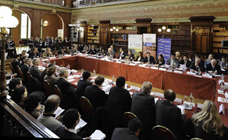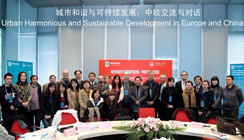 The theme of Greening China's Cities of Tomorrow was echoed two weeks later at the Shanghai roundtable, where more than a dozen scholars gathered on the campus of Tongji University to discuss issues like urban public space, urban communities, new towns around Shanghai, and strategies for low carbon cities. In his welcoming speech, Prof. WU Jiang, Vice President of Tongji University, pointed out that land use and the handling of land resources were the thorniest problem in China's urban development and expansion. Those who presented included Prof. Roger TRANCIK, author of Finding Lost Space; Mr Julien WOESSNER, and Prof. Edwin CHAN, who introduced green buildings for sustainable dense cities and shared specific cases from Hong Kong. The success of the roundtables prompted plans for further collaboration and possible joint publication in the future.
More details of the above roundtables can be found at:
http://www.understandingchina.eu/Policydialogueevents/PolicySummits/tabid/881/EventType/EventView/EventId/1096/
EventDateID/1109/PageID/5334/GreeningChinascitiesoftomorrow.aspx

CSE Prof. speaks about the impact of PolyU's innovations
| | | |
| --- | --- | --- |
| On the evening of 14 March 2012, Prof. Ni Yiqing of the Department of Civil and Structural Engineering was one of the star speakers at the first quarterly gathering to highlight the innovations of PolyU. His talk was on performance monitoring and vibration control of high-speed rail systems, which have developed rapidly with innovation in technology and become indispensable for economic growth in mainland China. As the coordinator of a PolyU inter-disciplinary research team engaged in devising novel sensors and dampers for real-time safety monitoring and smart vibration control, Prof. Ni has become an expert in this area. The Q & A session that followed was facilitated by Ir Prof. Alexander Wai, Vice President of Research Development at PolyU. | | |

BRE Prof. first runner-up in green photo contest
| | | |
| --- | --- | --- |
| As part of Environmental Week 2012, the Health, Safety, and Environment Office organized a photo competition with the theme of "My Green PolyU" for all students and staff of the university in March. Photos were judged by relevant PolyU staff as well as professional photographers according to four criteria: composition, creativity, relevance, and technique. Prof. Francis Wong of the Department of Building and Real Estate was selected as the first runner-up in the staff category with his submission, which was taken from the Podium near Core F. His winning entry showed the tranquil environment provided by the green foliage on our campus, even though it is bounded by the shape and form of concrete buildings. He received a leather personal organizer and a certificate for his efforts. Congratulations to Prof. Wong! | | |

BSE student triumphs in Inter-Collegiate Contest as part of winning Debate Team
| | | |
| --- | --- | --- |
| In the final round matches of the 29th Hong Kong Inter-collegiate Debate Competition on 14 April 2012 at the Hong Kong Cultural Centre, the team representing PolyU beat its opponents from Baptist University to take the Championship again after 14 long years. Members of the winning team include Tang Ho Lap [BSc (Hons) in Biomedical Engineering], Captain and Winner of 'The Best Debater' award; Kwan Man Yee [BA (Hons) in Bilingual Studies]; Lee Chi Yiu [BEng (Hons) in Product Engineering with Marketing]; and Chan Fu Chung [HD in Building Services Engineering], who had three days to prepare their arguments as a team before the showdown. | | |
Co-organized by Radio Television Hong Kong and the Hong Kong Federation of Students, the annual competition is conducted in Cantonese and aims to nurture an interest in current affairs in the students of the nine local tertiary institutes. The motion for the final debate was "The Individual Visit Scheme brings more benefits than harms to Hong Kong," with the PolyU team arguing for the negative side. The panel of judges included Mr Martin Liao Cheung-kong, Chairman of the Hong Kong Council for Accreditation of Academic and Vocational Qualifications; Mr Jat Sew-Tong, Chairman of the Independent Police Complaints Council; Mr Roy Tang Yun-kwong, Director of Broadcasting; His Honour Judge S. T. Poon, Acting Chief District Judge; and Mr Paul Shieh, Vice-Chairman of the Hong Kong Bar Association. After more than an hour of sharp exchanges and rebuttals between the contestants, the PolyU team emerged as the winner with its outstanding debating skills. It is currently affiliated with the General Education Centre, and its advisor is Dr Yu Kam Por. Besides Chan Fu Chung, who plans to continue his studies in BSE, the 19-strong Debate Team includes three other FCE students, namely, Cheung Siu Keung [BSc (Hons) in Environmental & Sustainable Development]; Lo Pik Fei [BSc (Hons) in Property Management]; and Pang Wing Shan [BSc (Hons) in Environmental & Sustainable Development].

West African PhD student adjusts to life at PolyU
Ernest Effah Ameyaw has come a long way from home. Originally from Ghana, he is the recipient of an International Postgraduate Scholarship and is now working for a PhD in the Department of Building and Real Estate. He enjoys his studies at PolyU, which attracted him for three reasons: the excellent reputation of his supervisor, Prof. Albert Chan; the status of PolyU; and the opportunity to explore this part of the world. His research pertains to public-private partnerships (PPP) and he is exploring a risk allocation model for PPP water supply projects in Ghana. After getting a MSc in Urban Water Systems (with Distinction) from Exeter Univ. in the UK, he chose to continue his studies in the above area because it is an emerging market in his home country. He finds it difficult to communicate with his family and friends back home sometimes, since Hong Kong is 8 hours ahead of Ghana, but he has adjusted to life at PolyU, thanks to the support he has received from the campus community.

International Postgraduate Scholarships for PhD studies are awarded to academically strong applicants who can contribute to the internationalization of PolyU and add cultural diversity to the university. They normally cover tuition fees for 3 years.

CSE exchange student in London
| | | |
| --- | --- | --- |
| One of our top undergraduate students in the Department of Civil and Structural Engineering, Qian Xin, is currently spending her final year as an exchange student in London's Imperial College, a leading institute of higher learning, particularly in the field of civil engineering. She believes luck and hard work play a part in getting her to where she is now. The chance to study in the U.K. has given her an insight into the education system there, where students are more motivated and independent in their studies and research. By contrast, her peers at PolyU value practice more and gaining experience from industry. She plans to continue her studies at the University of California at Berkeley, where she has been admitted to a MSc programme, but first she has to finish her final year project, which is on electromagnetic shunt dampers. | | |

LSGI student wins Swire Polytechnic Scholarship 2011/12
| | | |
| --- | --- | --- |
| Miss NG Wan Yin, a second-year Higher Diploma student in the Department of Land Surveying and Geo-Informatics (LSGI) has won the Swire Polytechnic Scholarship 2011/12 for the second consecutive year. Sponsored by John Swire & Sons (HK) Ltd., the scholarship of HK$31,575 is awarded annually to a UGC-funded Higher Diploma student who excels in academic performance and other achievements in the first semester of study. Wan Yin has demonstrated outstanding results in her studies and personal growth. Her po­sitive attitude is a driving force behind her success. She tries to do her best work by seeking help from her teachers whenever she comes across any difficulties. Her guiding philosophy is give more, gain more, which reflects  the truism that one's efforts are directly proportional to the outcome one gets. Congratulations Wan Yin! We wish her a bright future after her graduation this year. | | |

Where's PolyU's Best Athlete now?
| | | |
| --- | --- | --- |
| Lam Mei, a 2011 graduate of the BSc (Hons) in Environmental and Occupational Safety & Health, had the honour of representing PolyU as the best athlete in 2010-2011. Having played volleyball for more than a decade, she has honed her skills in the sport ever since she began secondary school. The encouragement of her P.E. teacher intensified her interest in the game. Her mastery of it has made her Hong Kong's representative at the AVC Eastern Zonal Volleyball Championship, the East Asian Games, and the 2011 World University Games. She could easily have turned into a professional volleyball player, but she is making good use of her education as an Assistant Safety Officer at China Geo-Engineering Corporation, where she started working full-time in September 2011. She misses playing volleyball, and plays it with her friends whenever she can. If anything, the sport has made her appreciate the art of teamwork more. | | |

The Outstanding BSE Alumni Award 2012
The Department of Building Services Engineering (BSE) was established in 1981 and is now the largest academic department in Hong Kong devoted exclusively to building services engineering education and training.  Our graduates have dedicated themselves to the profession of Building Services Engineering in Hong Kong, Mainland China and overseas.  Aimed at giving recognition to outstanding alumni for their accomplishments and their contribution to the community, the 1st Outstanding BSE Alumni Award was organized in 2010; the time has come for the 2nd Outstanding BSE Alumni Award 2012.
BSE is now calling for nominations for the biennial award. Your nominations are key to selecting our most deserving alumni. Nominate your outstanding BSE Alumni Now! For more details, please refer to BSE website:
http://www.bse.polyu.edu.hk/alumni/index.html or contact BSE at 3400 3605.

Faculty Distinguished Lecture and Public Lectures


The Faculty of Construction and Environment was honoured to have the following speakers giving distinguished lecture and public lectures at PolyU:

Dr Guy Pierre Brasseur

FCE Distinguished Lecture
"From Climate Science to Earth System Stewardship"

Speaker:
Dr Guy Pierre Brasseur, The founding Director, Climate Service Center (CSC) in Hamburg, Germany

Date: 13 April 2012 (Fri) (Details)


Dr Tak-Ming CHAN

FCE Public Lecture
"Elliptical World"

Speaker:
Dr Tak-Ming CHAN, Assistant Professor in Structural Engineering, School of Engineering, University of Warwick, United Kingdom

Date: 17 April 2012 (Tue) (Details)





Prof. Claus-Peter Fritzen

FCE Public Lecture
"Structural Health Monitoring – Basic Concepts, Recent Developments and Applications"

Speaker:
Prof. Claus-Peter Fritzen, Department of Mechanical Engineering, Faculty of Science and Engineering, University of Siegen, Germany

Date: 26 April 2012 (Thu) (Details)

Invitation for Programme Admission 2012/13
Applications are now invited for the following taught postgraduate programmes.

Master of Science (MSc)/Postgraduate Diploma (PgD)

Building Services Engineering 屋宇設備工程學*

Civil Engineering 土木工程學

Construction and Real Estate 建築及房地產學*

Construction Law and Dispute Resolution 建築法及爭議解決學

Environmental Management and Engineering 環境管理及工程學

Facility Management 設施管理*

Fire and Safety Engineering 消防及安全工程學*

Geomatics (Geographic Information Systems) 測繪及地理資訊學(地理資訊)

Geomatics (Surveying) 測繪及地理資訊學(測量)

Project Management 項目管理*

Sustainable Urban Development 可持續城市發展學*

For programme details, please visit https://www.polyu.edu.hk/study

*Applications closed




Forthcoming Events

---

Copyright © 2012 Faculty of Construction and Environment, The Hong Kong Polytechnic University. All rights reserved.