PolyU's research in civil engineering ranked 5th in the world
According to the latest Taiwan rankings (previously known as the rankings of the Higher Education Evaluation & Accreditation Council of Taiwan), civil engineering research at PolyU is the 5th strongest in the world based on a series of performance indicators for research publications. The field of civil engineering here is broadly defined to also include Construction and Building Technology, Environmental Engineering etc. Hence, all four departments in the Faculty have contributed to this strong performance of PolyU. This excellent result demonstrates the high international standing and recognition of our world-class research on many important issues.
The top five universities in their ranking order are as follows:
| | |
| --- | --- |
| Rank | Name of University |
| 1 | University of California at Berkeley |
| 2 | Technical University of Denmark |
| 3 | Swiss Federal Institute of Technology - Zurich |
| 4 | Delft University of Technology |
| 5 | The Hong Kong Polytechnic University |
In addition to creating significant impact in the international scientific community, the Faculty's research has also brought many benefits for the city and the region. For example, the Department of Civil and Structural Engineering played an important role in ensuring the safety of landmark structures such as the Tsing Ma Bridge in Hong Kong and the Canton Tower in Guangzhou. Researchers in the Department of Building Services Engineering have also worked to reduce the energy consumption of building structures; most notably, the International Commerce Centre in West Kowloon, the tallest building in Hong Kong, achieved energy savings of about 15% with our new technology.

PolyU hosts the Joint International Symposium on Deformation Monitoring
More than 200 leading experts, researchers and industry practitioners from over 27 countries and regions gathered in Hong Kong from 2 to 4 November 2011 for the Joint International Symposium on Deformation Monitoring (JISDM), which was organized by the Department of Land Surveying and Geo-Informatics(LSGI) of The Hong Kong Polytechnic University(PolyU), the International Federation of Surveyors (FIG) Working Group 6.1: Deformation Measurement, the International Association of Geodesy (IAG) Sub-Commission 4.2: Applications of Geodesy in Engineering, the IAG Sub-Commission 4.4: Applications of Satellite & Airborne Imaging Systems and Engineering Surveying Sub-Society, and the Chinese Society for Geodesy, Photogrammetry and Cartography.

Professor Xiaoli Ding, Chair of IAG Sub-Commission 4.4 and JISDM 2011Organising Committee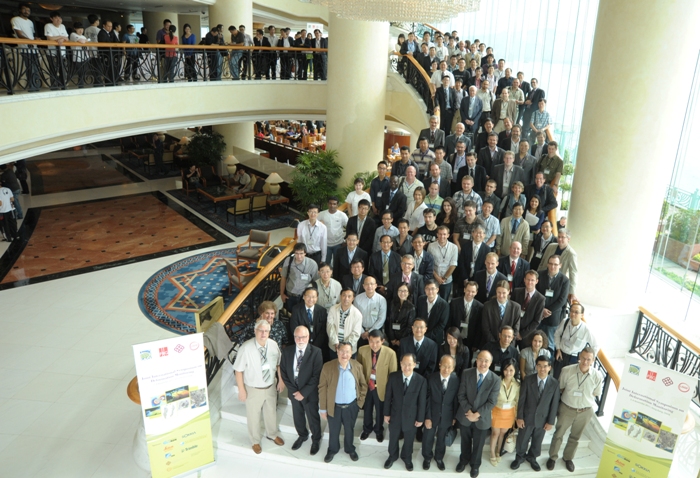 The symposium was officially opened on 2 November at the Harbour Grand Kowloon Hotel by Professor Xiaoli Ding, Chair of IAG Sub-Commission 4.4 and JISDM 2011 Organising Committee; Professor Judy Tsui, PolyU Vice president; Mr Wong Chung Hang, Deputy Director of the Lands Department of the Hong Kong Special Administrative Region Government; Professor Gethin Roberts, Chair of FIG Working Group 6.1; and Professor Guenther Retscher, Chair of IAG Sub-Commission 4.2. Addressing the opening ceremony, Professor Ding said, "Structural failures such as collapses of bridges and buildings and geohazards caused by events such as landslides, ground subsidence and earthquakes are world-wide problems that often lead to significant economic and life losses. It is therefore important to carry out systematic research to better understand and manage these problems. We are privileged to host this top level scientific international Symposium and hope it can facilitate exchange and developments of innovative ideas about deformation monitoring and novel solutions to both natural phenomena and man-made structures."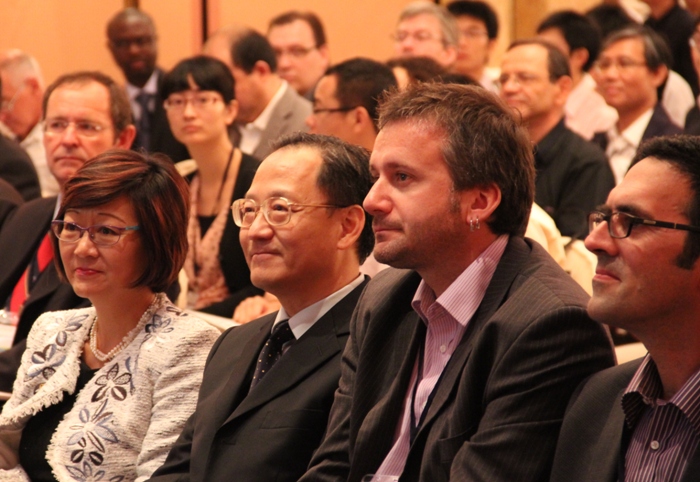 Professor Judy S.L. Tsui, PolyU Vice president; Mr Wong Chung Hang, Deputy Director of Lands Department;
Professor Gethin Roberts, Chair of FIG Working Group 6.1; and Professor Guenther Retscher, Chair of IAG Sub-Commission 4.2.
Six prominent international and local experts delivered keynote speeches at the Symposium. They include Prof. Dr Ir R.F. Hanssen, from the Delft University of Technology, the Netherlands; Dr Masanobu Shimada, of the Earth Observation Research Center, Japan; Prof. C.K. Shum, of the Ohio State University, USA; Prof. Yong-qi Chen, from the Department of Land Surveying and Geo-Informatics of PolyU; Prof. Werner Lienhart, Graz University of Technology, Austria; and Prof. Yuanxi Yang, of the Xian Research Institute of Surveying and Mapping, China and a member of the Chinese Academy of Science.
More than 150 presentations were delivered in 26 sessions over three days. Experts from the international community shared their latest research and experiences in deformation measurement, analysis and interpretation. Commercial companies like Geokon Inc., YSF Corporation Ltd. SOKKIA, Leica Geosystems Ltd., and Earth Products China Ltd. exhibited the latest instruments and software systems during the symposium period. LSGI is grateful to these supporting organizations and the Faculty of Construction and Environment of PolyU for providing financial support to this event.
For more details of the Symposium, please visit its official website: http://dma.lsgi.polyu.edu.hk/ .

BSE collaborates with industry in a lighting lab
The Department of Building Services Engineering and a lighting company, LEDARTIST, have opened Hong Kong's first laboratory for the study of lighting on 24 October 2011. Located in Kwun Tong, the lab will support research on sustainable lighting designs. Dr Chung Tse Ming, Associate Professor of BSE, estimates that appropriate lighting designs can reduce Hong Kong's light pollution by up to 50%. Previous research has shown the brightness from the bustling city at night on average exceeds 100 times that from the countryside, with the biggest contrast between areas like Mongkok and Causeway Bay with the eastern part of Saikung as well as the southern part of Lantau. The difference in brightness between these places is nearly 500 times.
Light pollution has become a serious problem in Hong Kong, with the Environmental Protection Department receiving about 40 complaints of it each year. According to Dr Chung, Hong Kong does not have comprehensive regulations for lighting design, leading to an over-abundance of lighting at night, thus wasting valuable lighting resources. He suggests reducing light pollution by changing the lighting angles, increasing the use of shades to block excessive lighting, as well as switching to LED lighting.
With about 1000 square feet, the lab has several modeling areas to exhibit the impact of various lighting designs on the environment. It will also provide around 100 internships to BSE students each year to reinforce their ideas of lighting designs.


Never too old for an honorary degree
The oldest recipient of an honorary degree at the 17th Congregation of PolyU on 29 October 2011 was Mr NG Wing hong, who was given a Doctor of Engineering degree at the ripe old age of 95. An old-timer in the construction industry, he has spent more than half a century plying his trade since graduating in 1939 with a Diploma in Building (with Distinction) from the Government Trade School, the earliest forerunner of PolyU. His long and fruitful career included stints as Vice Chairman of Po Leung Kuk, President of the Hong Kong Building Contractors Association, Director of the Building Contractors Association School, Managing Director of Tai Hing (Engineers and Builders) Ltd., Chairman of Kwong Yuet Tong (Lu Pan Temple) as well as Director of Strong Fine Holdings Company Ltd. He understood at an early age the pivotal role played by education in bettering one's lot in life and has shown his gratitude to his alma mater by actively supporting many of its initiatives, including the "Walk of Friends," the 70th Anniversary Brick Sponsorship Programme, and the Monthly Donation Programme.
As a result of his accomplishments and philanthropy, Mr NG was conferred a University Fellowship in 2005 and received the Outstanding PolyU Alumni Award in 2009. A tree and a building on campus have also been named after him. He is truly an inspiration to everyone.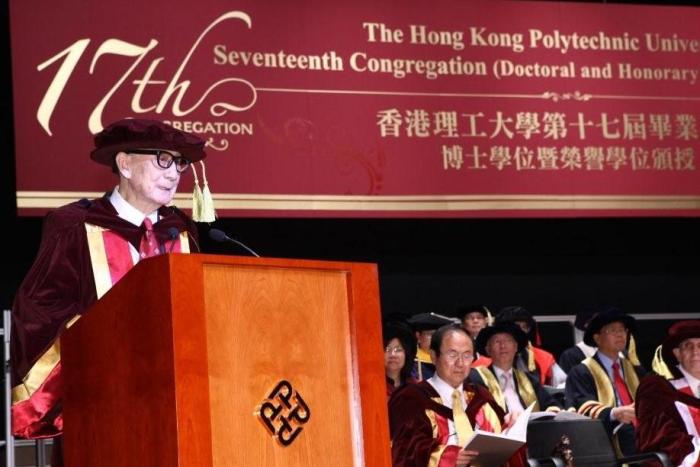 Top Brass of PolyU visits Guangzhou
Led by PolyU Court Chairman Prof. Roy Chung, a delegation of around 25, comprising members of Council and Court, university senior management and faculty members, went on a one-day trip to Guangzhou on 10 November 2011 to learn more about our research efforts at Canton Tower and to experience first-hand the innovative concepts in the office design and businesses of Prof. Liu Sing-cheong, an alumnus and our Court member.  Joining the President of PolyU, Prof. Timothy Tong, and its Deputy President, Prof. Philip Chan, were the Dean of the Faculty of Construction and Environment, Prof. Jin-guang Teng, and Prof. Ni Yiqing from the Department of Civil and Structural Engineering.
PolyU has been a partner of Guangzhou's Sun Yat-sen University to monitor the structural health of the tower since it was built in 2010. After visiting the world's tallest TV Tower, the Canton Tower, the group lunched at its rotating restaurant with its bird's-eye view of the city below.
In the afternoon, the group had a tour of the offices of Prof. Liu Sing-cheong, Founder and Chairman of Evergreen Real Estate Consultants Ltd. and My Top Home (China) Holdings Ltd., who shared his insights on entrepreneurship and business models with the visitors. The building where his enterprises are headquartered had a unique design. Fully making use of its ample space, it had floors for an art gallery, cellars, roof gardens, and a small movie theatre besides the usual offices.  The group had dinner at his club house, a 3-storey house reconstructed from a building of the 1920s in the conservation area of Guangzhou, before catching the express train back to Hong Kong. It was indeed an eye-opening visit for all.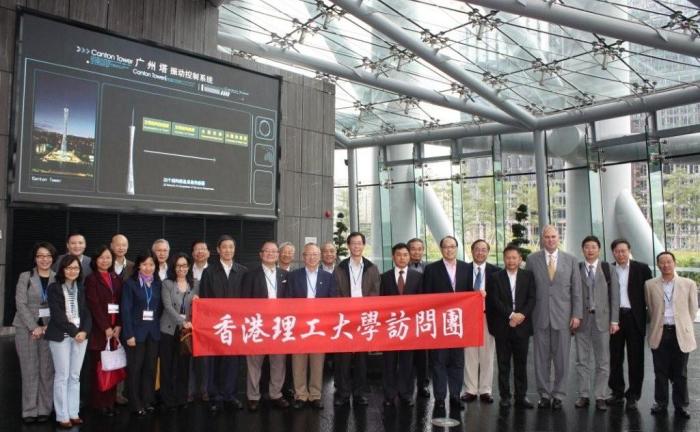 Hong Kong PhD Fellowship Scheme promoted in Europe
Prof. Albert Chan, Associate Dean of FCE, was one of the delegates from seven local universities to accompany the Research Grants Council (RGC) on a 2-week trip in October to promote the Hong Kong PhD Fellowship Scheme in Germany, the Netherlands, and Italy.  The delegates, led by Prof. Roland Chin, Chairman of RGC, were well received by both staff and students of the universities there. 

Established by the RGC of Hong Kong in 2009, the Hong Kong PhD Fellowship Scheme aims at attracting the best and brightest students globally to pursue their PhD studies in Hong Kong's higher institutions.  Since its inception, around 7000 applications from over 100 countries and regions have been received.  About 225 candidates from 31 countries and regions have been awarded the Fellowships.  Among these awardees, two of them have come from Germany, three from the Netherlands, and four from Italy. 

FCE has successfully attracted 5 students to the Scheme in each of the last two years.  In addition to having their tuition fees waived, Fellowship winners receive a monthly stipend of HK$20,000 (Euro 2,000) and a conference/research related travel allowance of HK$10,000 (Euro 1,000) per year for three years.  Students are chosen based on their academic excellence, research ability and potential, communication and interpersonal skills, as well as their leadership abilities, with academic excellence as the primary consideration. 
The Scheme is now calling for initial applications.  Each applicant is allowed to make one initial application to the RGC through the Hong Kong PhD Fellowship Scheme Electronic System (https://cerg1.ugc.edu.hk/hkpfs/InitApplication.jsp) to obtain a reference number by 1 December 2011.  Submission of full application to PolyU should be made via the Web Application System (https://www40.polyu.edu.hk/rowas/jsp/home.jsf) on or before 5 December 2011.  The awards will be announced in March 2012.

Prof. Albert Chan presented PolyU's research achievements to staff
and students of Ludwig-Maximilians-Universitat Munchen, Germany.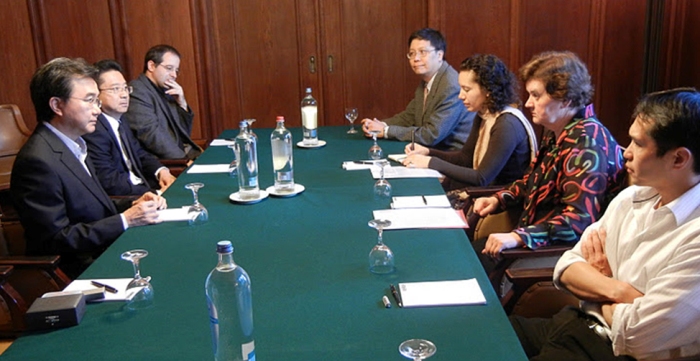 RGC delegates meeting with the Rector of University of Amsterdam, the Netherlands.

RGC delegates making a presentation to staff and students of Milan Politecnico, Italy.

FCE hosts visitors from Lawrence Berkeley National Lab
Two research scientists from the U.S. Department of Energy's Lawrence Berkeley National Laboratory visited the Faculty of Construction and Environment on 24 October 2011. Lynn PRICE and Dr Nan ZHOU of the China Energy Group of the Environmental Energy Technologies Division gave a talk on the development of a low-carbon indicator and guidebook for China as well as scenarios of China's energy use and carbon emissions to 2050. Their objective was to provide guidance for low carbon development policies by means of a low carbon indicator system at the city level. Based on data available at the provincial and the municipal level, they presented initial results from an end-use indicator system for Beijing, Shanghai, Hubei, Shanxi, Shandong, and Guangdong.

In addition, they outlined the steps for the establishment of low-carbon action plans, which include taking an inventory of emissions, setting targets, selecting policy mechanisms, implementing them, and evaluating the progress made. Their 2-hour seminar was most enlightening for those who attended.

FCE Postdoctoral Fellowship Scheme
Applications are now invited for research posts funded by the Faculty of Construction and Environment (FCE) Postdoctoral Fellowship Scheme (PDF) in any of the disciplines covered by the four academic departments of the Faculty. This is a prestigious postdoctoral fellowship scheme aimed at attracting outstanding early-career researchers to the FCE for world-class research.
Main Selection Criteria
Candidates must have obtained the PhD degree or an equivalent qualification from a recognized institution on or after 1 January 2009 or are expected to obtain the PhD degree by 30 June 2012.


Candidates shall have a strong track record in high-quality research as evidenced by publications and other research outcomes.


The proposed supervisory team shall have strong research track records and have the expertise needed to supervise the proposed research topic.
Particulars of Appointment
The duration of the Postdoctoral Fellowship will be two years. The primary duty of the Postdoctoral Fellow is to conduct research under the guidance of a Chief Supervisor and one or more Co-Supervisors. The Chief Supervisor shall be an academic staff member of the FCE and will act as the Principal Investigator (PI) of the project.
Remuneration
Salaries offered will be competitive and will depend on qualifications and experience. Applicants should state their current and expected salaries in the application.
Application Procedures
An application must be made by the PI under whose guidance the applicant intends to work, in the form of a research project proposal. The proposal should be jointly prepared by the applicant and the PI. Interested persons should first explore the opportunity with a potential Chief Supervisor by referring to the major research areas currently being pursued in each department of the FCE. Applicants are advised to contact the relevant Chair of Departmental Research Committee for advice if necessary.

Applicants are required to fill in Form HR7A and attach their curriculum vitae (CV) with the application. In their CVs, applicants should identify up to five of their most representative research output items and provide a full list of publications/other research output items for consideration by the Faculty Research Committee. Journal publications should be listed separately from other research output items. Accepted journal articles may also be included in the CVs with the letters of unconditional acceptance attached. If the applicant is not the first or second author of a journal paper listed in his/her CV, explanations for how he/she should be taken as the main contributor need to be given.

Applicants should email the completed Form HR7A together with the CV to the PI concerned.
The closing date for application is 16 January 2012. Applicants can also contact the Faculty Office
[Tel: (852) 3400 3878, Fax: (852) 2362 2574, E-mail: clnotice@inet.polyu.edu.hk] for enquiries about procedural matters.

Applicants who are not invited to an interview within two months of the closing date may assume that their applications have been unsuccessful. Applicants should read the University's Personal Information Collection Statement for Recruitment before completing the application form (Form HR7A).
About The Hong Kong Polytechnic University
The Hong Kong Polytechnic University (PolyU) is an international centre of learning where students and researchers worldwide come to study with outstanding scholars. We are one of the leading research and instructional universities in Asia with superb research facilities. We have a pool of active researchers carrying out over 2,000 projects every year and many of our academics are world-renowned for their research activities and achievements. The medium of instruction at The Hong Kong Polytechnic University is English.
About the Faculty of Construction and Environment
Composed of the following four departments: (a) Department of Building and Real Estate; (b) Department of Building Services Engineering; (c) Department of Civil and Structural Engineering; (d) Department of Land Surveying and Geo-Informatics, the Faculty of Construction and Environment (FCE) of PolyU is the largest contributor in Hong Kong to university-based research in Construction and Environment.  It is home to 110 academic staff members at Lecturer and above levels whose expertise spans a wide range of areas related to the construction industry and sustainable urban development. It is also home to about 260 research postgraduate students (including about 210 PhD students) and about 220 research staff.

BRE students prepped for future careers
To familiarize building engineering students with their career prospects, the Department of Building and Real Estate, the Hong Kong Institution of Engineers, and the Building and Real Estate Students' Society jointly organized a forum where Ir Philip KWOK and Ir K.Y. Ma talked about the development of an engineer and the route to corporate membership respectively. About 60 students studying for their BSc(Hons) in Building Engineering and Management and Higher Diploma in Building Technology and Management attended the forum on 9 November 2011. The speakers gave students some pointers on what to expect at the start of their careers. Their talk was very helpful to those who attended in planning for their future.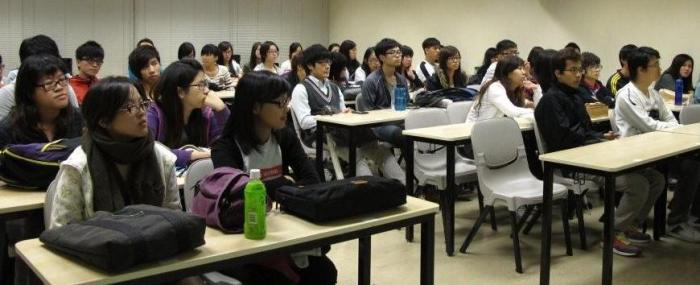 Forthcoming Events

FCE Public Lecture - "Symplectic Mathematics in Applied Mechanics and Optimal Control"
Date: 25 November 2011
Venue: M1603, Senate Room, Li Ka Shing Tower, The Hong Kong Polytechnic University
Website: https://www.polyu.edu.hk/fce/events/20111125_lecture/

The 14th Asia Pacific Vibration Conference (APVC)
Date: 5-8 December 2011
Venue: The Hong Kong Polytechnic University
Website: http://www.cse.polyu.edu.hk/apvc2011/

The APVC is an international refereed conference held once every two years to present and publish the research and development activities related to aspects of dynamic control, sound and vibration, condition monitoring, damping, responses to earthquake ground motions as well as other aspects of dynamic responses for both mechanical and structural engineering systems.
PolyU 75th Anniversary Faculty of Construction and Environment Alumni Associations' Ball
Date: 18 February 2012
Venue: Hotel ICON, 17 Science Museum Road, Tsim Sha Tsui East, Kowloon, Hong Kong
First International Conference on Performance-based and Life-Cycle Structural Engineering (PLSE 2012)
Date: 5-7 December 2012
Abstracts of papers should be emailed to the following address by 15 January 2012:
clplse@inet.polyu.edu.hk
Website: https://www.polyu.edu.hk/fce/PLSE2012
| | |
| --- | --- |
| Important Dates | |
| Deadline for Submission of Abstracts | 15 January 2012 |
| Deadline for Submission of Papers | 1 April 2012 |
| Notification of Paper Review Outcome | 1 June 2012 onwards |
| Deadline for Submission of Finalized Papers   | 1 August 2012 |
The 5th International Symposium on Transportation Network Reliability (INSTR)
Date: 18-19 December 2012, Hong Kong
Venue: The Hong Kong Polytechnic University
Website: http://www.instr2012.org

The INSTR series is the premier gathering for the world's leading researchers and professionals interested in transportation network reliability. The scope of the symposium includes all aspects of analysis and design to improve network reliability, including:
User perception of unreliability and vulnerability
Public policy and reliability of travel times
The valuation of reliability
The economics of reliability
Network reliability modeling and estimation
Transport network robustness
Reliability of public transportation
Travel behavior under uncertainty
Vehicle routing and scheduling under uncertainty
Risk evaluation and management for transportation networks
ITS to improve network reliability
| | |
| --- | --- |
| Important Dates | |
| Deadline for submission of extended abstracts (1000 words)  | 15 January, 2012 |
| Notification of acceptance or rejection of abstract   | 15 March, 2012 |
| Deadline for submission of full papers for peer review     | 15 June, 2012 |
| Notification of acceptance or rejection of full paper       | 15 August, 2012 |
| Deadline for submission of full, revised papers for publication | 15 September, 2012 |
Enquiries
Ms. Connie Lam
Department of Civil and Structural Engineering
The Hong Kong Polytechnic University
Hung Hom, Kowloon
Hong Kong
Tel: +852-2766-6070
Fax: +852-2334-6389
Email: secretary@instr2012.org

---


Copyright © 2011 Faculty of Construction and Environment, The Hong Kong Polytechnic University. All rights reserved.