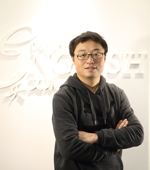 Shi, Yongming Bryan
PhD Student

Qualifications:
MA in Applied Linguistics, University of Nottingham Ningbo Campus (2013)

Med in TESOL University of Tasmania, Australia (2010)
Master of Education (TESOL)

BA in Business English, Shanghai Jiao Tong University (2005)



AG415

2766 7531

This email address is being protected from spambots. You need JavaScript enabled to view it.
Research
Research Area(s)
Systemic Functional Linguistics
Multimodal studies
Discourse analysis
Educational linguistics
World Englishes
Title of Thesis
(Working title) Tracking semiotic complexities in Chinese picture book narratives
Prelimilary Abstract:
Broadly speaking, the study is concerned with expanding present understanding of picture book narratives, especially when they are not designed in English-speaking countries and are targeting at different readership. The specific aim of the study is to further develop theoretical tools for both the visual analysis and the analysis of intersemosis between language and image in Chinese picture books, in terms of the realization of ideational, interpersonal and textual meanings.
Involvement in Research Groups, Networks and Projects
2012-2015 student member of IAWE (International Association for World Englishes)
Member of the Sysfunc listserver since 2012
PolySystemic Student Research Group, The Hong Kong Polytechnic University
Publications
Conference Presentations
Shi, Y. (2014). Recontextualizing Writing Proficiency: an Investigation of Model Essays for TEM-8. Paper presented at the 8th Free Linguistics Conference 2014, Shanghai Jiao Tong University
Shi, Y. (2013). Using English in Chinese Context: Writing model argumentative texts by Chinese EFL teachers. Paper presented at the Free Linguistics Conference 2013, The HongKong Polytechnic University.
Shi, Y. (2012). Investigating interpersonal meanings in China English: an appraisal analysis of an IELTS sample essay. Paper presented at the The 18th Conference of the International Association for World Englishes, HongKong/Guangzhou.
Research Publications
Shi, Y., & Liu, X. (In preparation). Recontextualizing writing proficiency: An investigation of model argumentation texts for IELTS preparation. TESOL International Journal.
Shi, Y. (2014). Reconceptualizing China English: an investigation of model argumentative texts by Chinese ELT teachers. Conference proceedings for the 7th International Free Linguistics Conference, Hong Kong.
Shi, Y., Fan, S., & Le, T. (2011). Investigating identities through language use: A perspective of discourse analysis. In T.Le & Q. Le (Eds.), Linguistic diversity and cultural identity: A global perspective (pp. 25-33). NY: Nova Science Publishers.
Teaching
2011 – 2014 IELTS trainer in Global Education
2007 – 2009 English teacher in Shanghai TianHua College
Service
I was involved in the organising committee for The 6th PolySystemic Language Education Symposium & Workshops, The Hong Kong Polytechnic University, 2015 December 1-4