PolyU Student Entrepreneurial Proof-of-concept (POC) Funding Scheme 2022 - Briefing Session
Conference / Seminar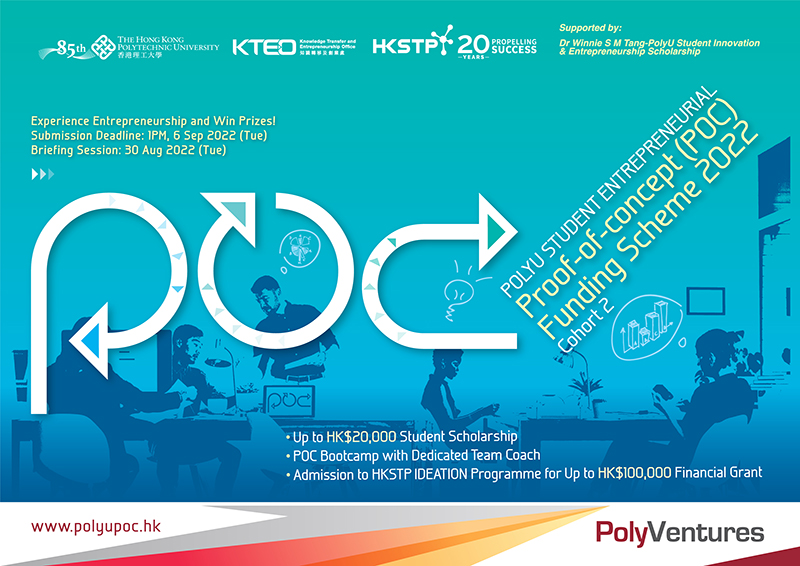 Organiser

Knowledge Transfer and Entrepreneurship Office

Venue

V1201, 12/F, Jockey Club Innovation Tower (Core V), PolyU
Summary
PolyU Student Entrepreneurial Proof-of-Concept (POC) Funding Scheme is a funding initiative launched in 2017 as one of the key entrepreneurship education components at PolyU. With the kind support from 'Dr Winnie S M Tang-PolyU Student Innovation & Entrepreneurship Scholarship' since 2022, POC Fund aims to instil a problem-driven innovation mindset into young talents through experiential learning and student-initiated research and development.
Programme:
5:30PM Registration
5:45PM Opening Speech
Dr Winnie Tang, Founder and Chairman at Esri China (Hong Kong) Limited
5:48PM Group Photo
5:50PM Sharing of Last Cohort Projects
6:10PM Introduction of POC Funding Scheme
6:25PM Q&A and Networking

Language:
English
Note:
Please sign up *individually* for each of your team members (if any). You are reminded to indicate if you have access to PolyU campus to attend the briefing session during registration. If no, we will arrange a visitor pass (QRcode) for you in advance. No last minute campus access request will be accommodated.