Spring Festival Event – Spring Couplets
Organiser

Chinese Language Centre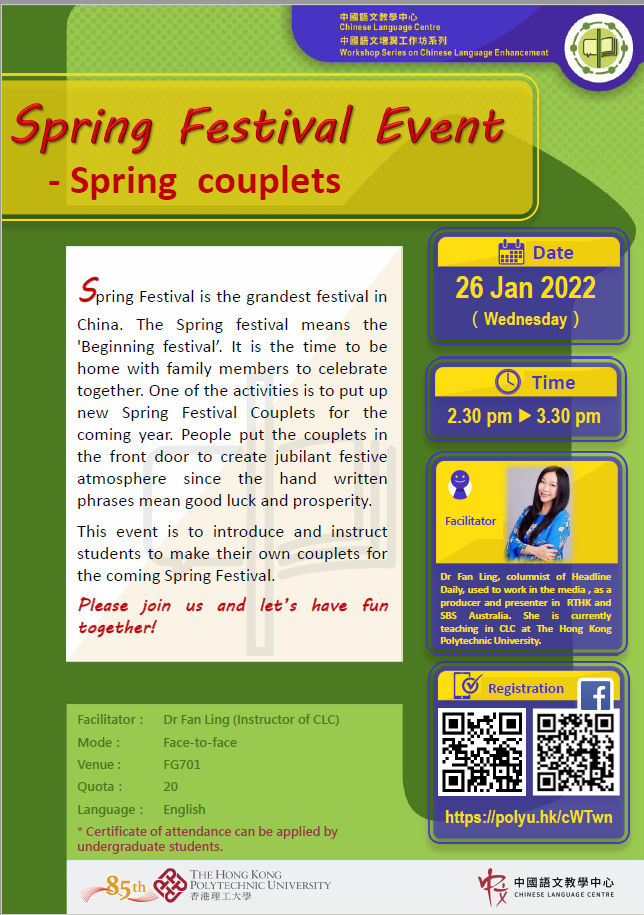 Summary
Introduction
Spring Festival is the grandest festival in China. The Spring festival means the 'Beginning festival'. It is the time to be home with family members to celebrate together. One of the activities is to put up new Spring Festival Couplets for the coming year. People put the couplets in the front door to create jubilant festive atmosphere since the hand written phrases mean good luck and prosperity.
This event is to introduce and instruct students to make their own couplets for the coming Spring Festival. 
Please join us and let's have fun together !
Facilitator: Dr Fan Ling
Date: 26 Jan 2022 (Wed)
Time: 14.30 - 15.30
Venue: FG701
Language: English
Keynote Speaker
Dr Fan Ling
Instructor, Chinese Language Centre, The Hong Kong Polytechnic University