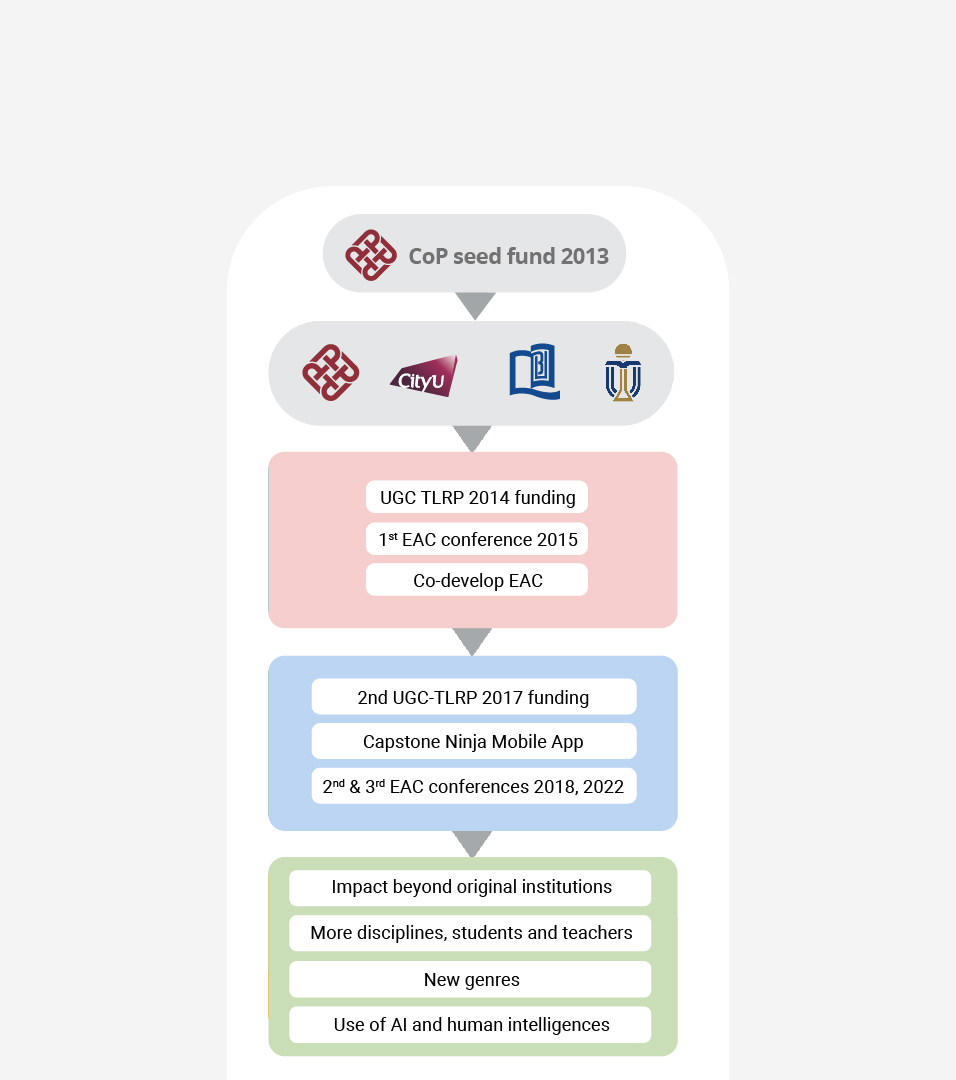 English Across the Curriculum
English Across the Curriculum (EAC) loosely follows the Writing Across the Curriculum (WAC) approach in North America, and aims to increase students' exposure to timely English learning resources without taking up much curriculum space (Chen & Morrison, 2021). A main objective of our EAC model is to work with discipline teachers to enhance students' writing and speaking skills that they need in disciplinary contexts. It has now developed into an interdisciplinary and inter-institutional educational movement.
This model of EAC started at the Hong Kong Polytechnic University (PolyU) in 2013 with a Community of Practice (CoP) seed fund from the Hong Kong University Grants Committee. PolyU then reached out to three other universities: CityU, HKUST and CUHK to co-develop EAC with the first UGC TLRP funding in 2014, and HKBU joined the team in 2017 with the second UGC TLRP funding in 2017, which was the funding that enabled the development of the EAC mobile app called 'Capstone Ninja'.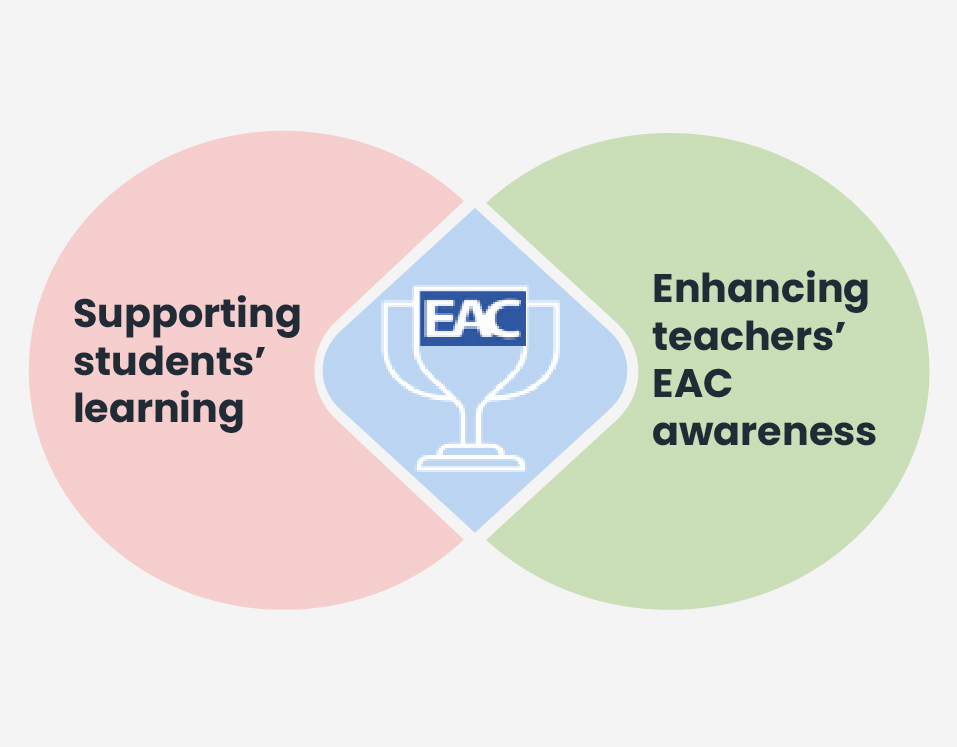 Main features of EAC
1. Offers students timely and targeted language learning resources (EAC resources) that focus on writing and speaking communication in the discipline.
2. Creates synergy between English teachers and teachers from different disciplines to collaborate on producing discipline-related EAC resources that students will find relevant and useful for their discipline assessment.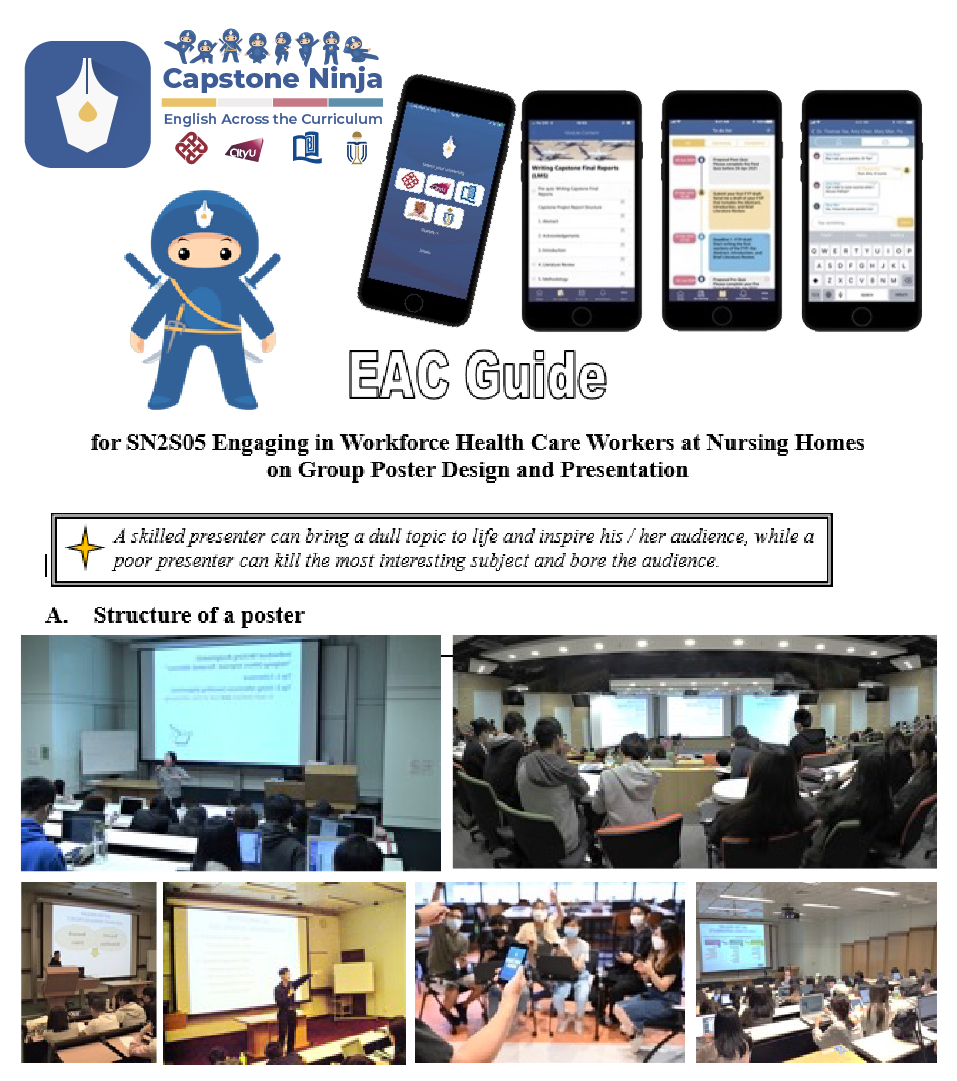 Student support
Supporting students by producing timely, tailored and ubiquitous learning resources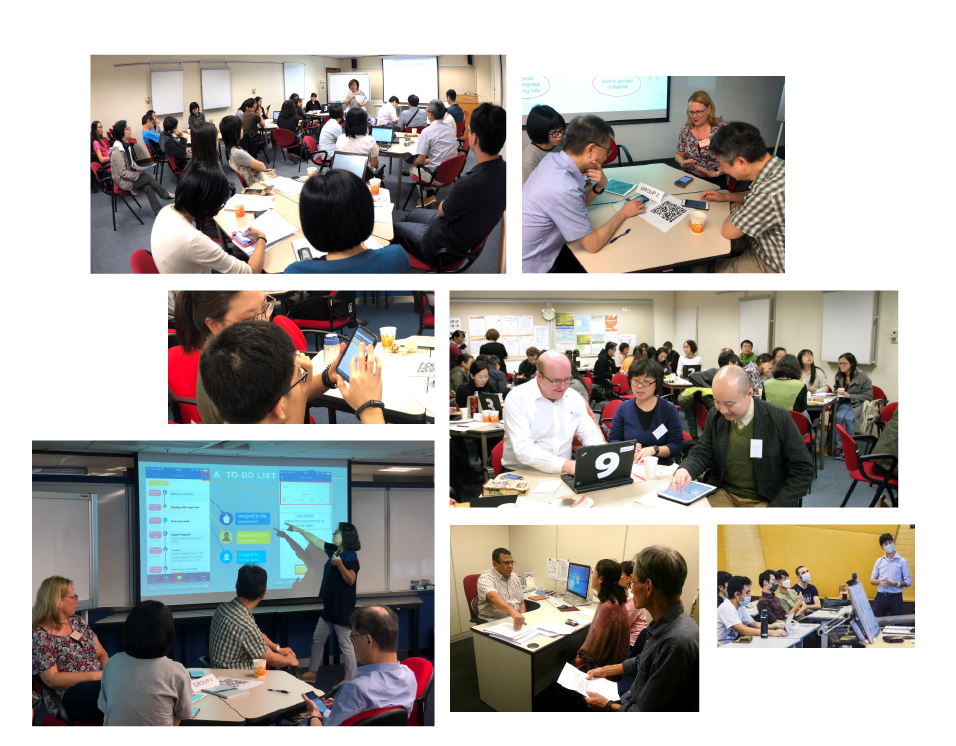 Staff support
Supporting staff from different disciplines through staff development workshops & meetings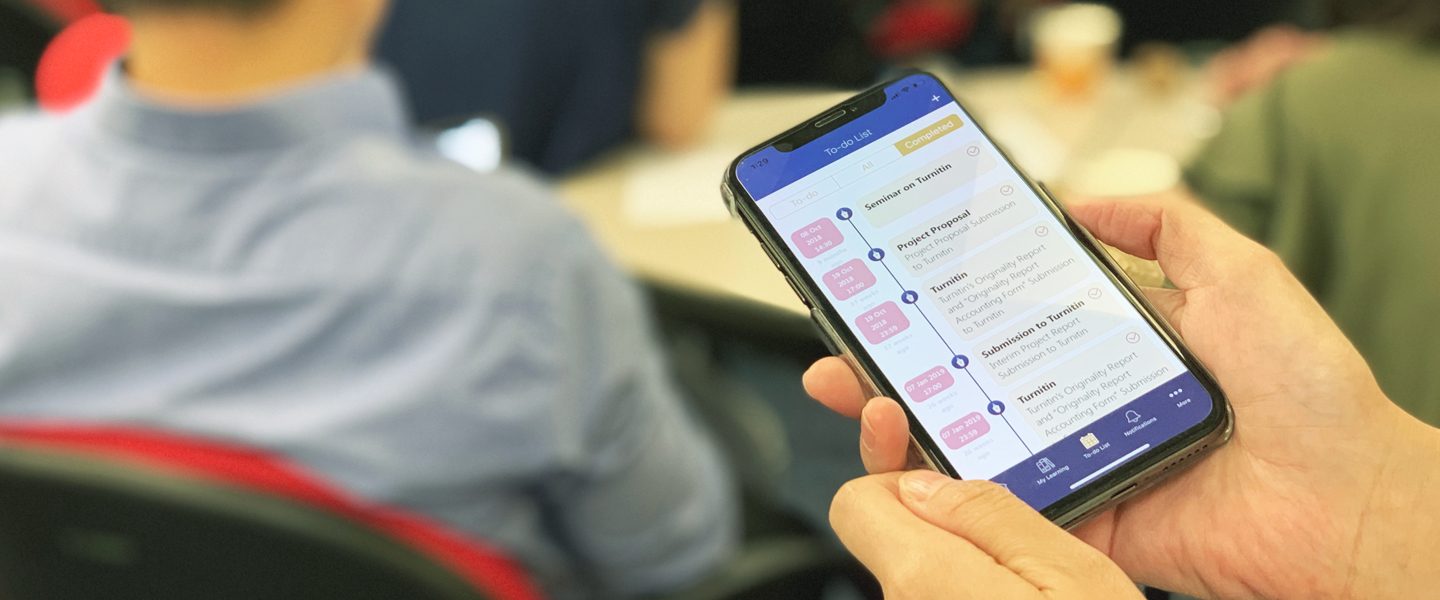 One of the more recent funded EAC projects is Technology-enabled English across Curriculum, which aims at enhancing students' English communicative competence beyond the standalone English language subjects to help students with the English they need to complete assessments in their content subjects. The project provides students with multi-modal English language learning resources appropriate to their discipline on platforms such as the LMS or via the Capstone Ninja mobile app.

Technology-enabled English across Curriculum brings together English language teachers and discipline academics (i.e. subject leaders and capstone project supervisors) on the design of English learning resources such as language tips and citation format, as well as technical experts in mobile application design and engineers of mobile app development.

Students use Capstone Ninja to learn, to schedule their workload, and to communicate with their supervisors. In The Hong Kong Polytechnic University, Capstone Ninja has been widely used by students and their project supervisors in FAST, FB, FCE, FENG and FHSS.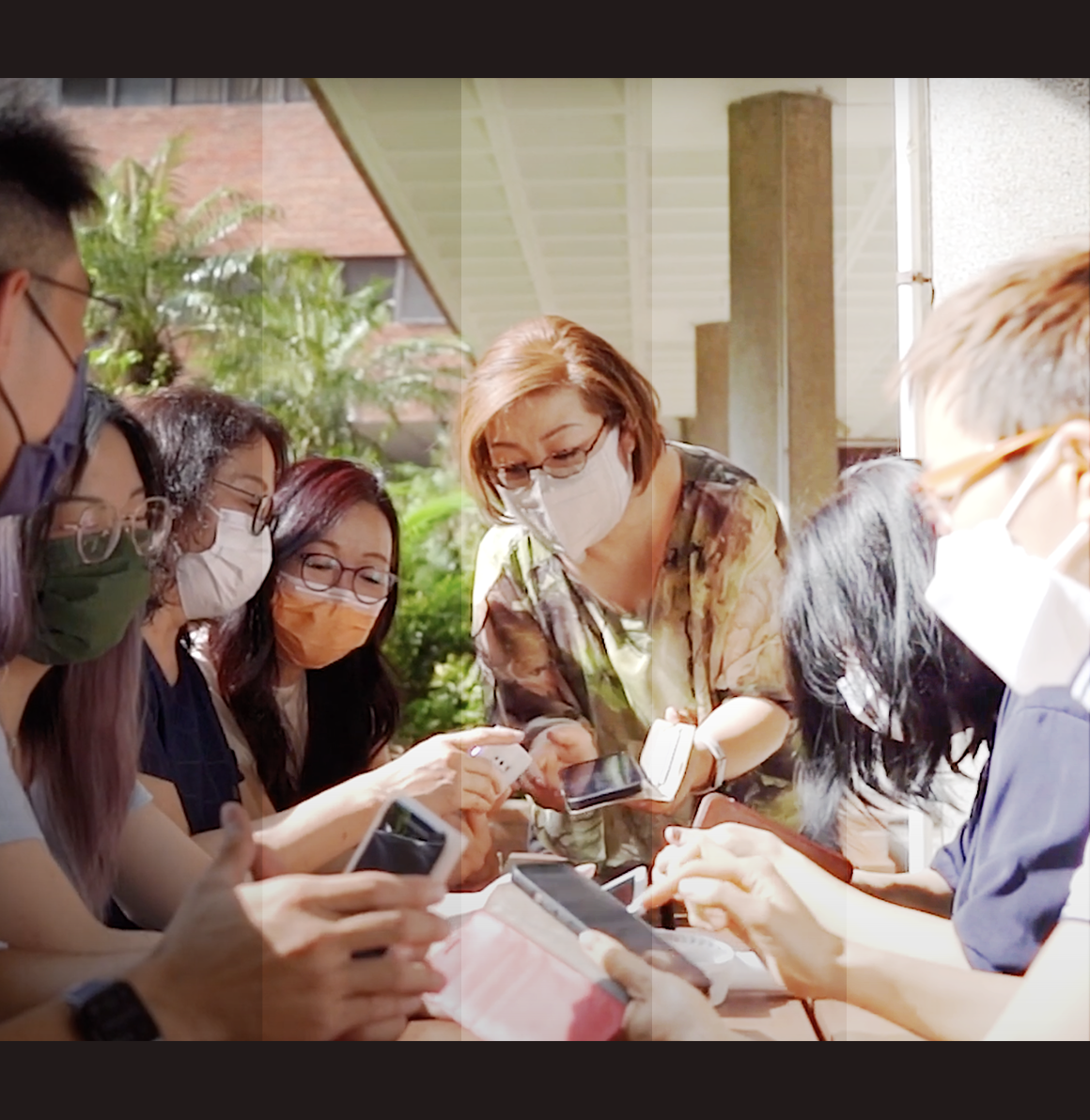 Awards received by EAC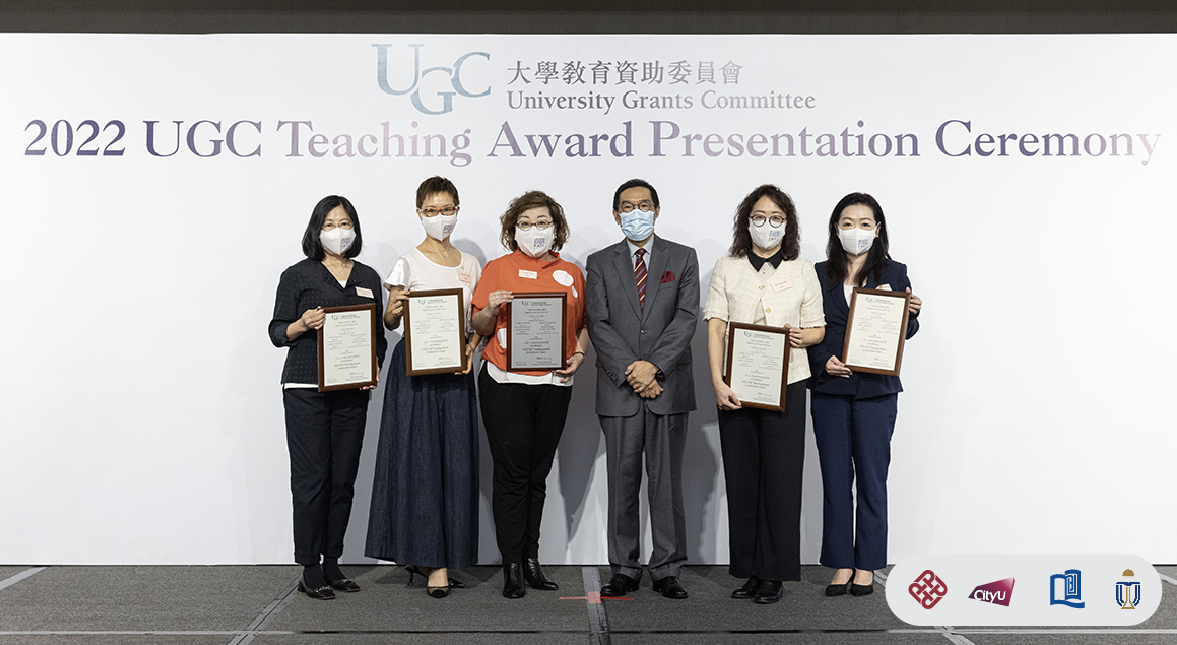 Over the past eight years, The English Across the Curriculum Team has generated multiple innovative and effective strategies for developing students' academic literacy, including the deployment of multi-modal English Across the Curriculum resources and the mobile app "Capstone Ninja".
The Team has successfully built a culture conducive to student-centred and interdisciplinary collaboration, thereby benefitting English teachers, discipline teachers, and their students in UGC-funded universities, and making a significant positive impact on students' English ability and learning experiences, as well as participating teachers' teaching capacity and pedagogical approaches across universities.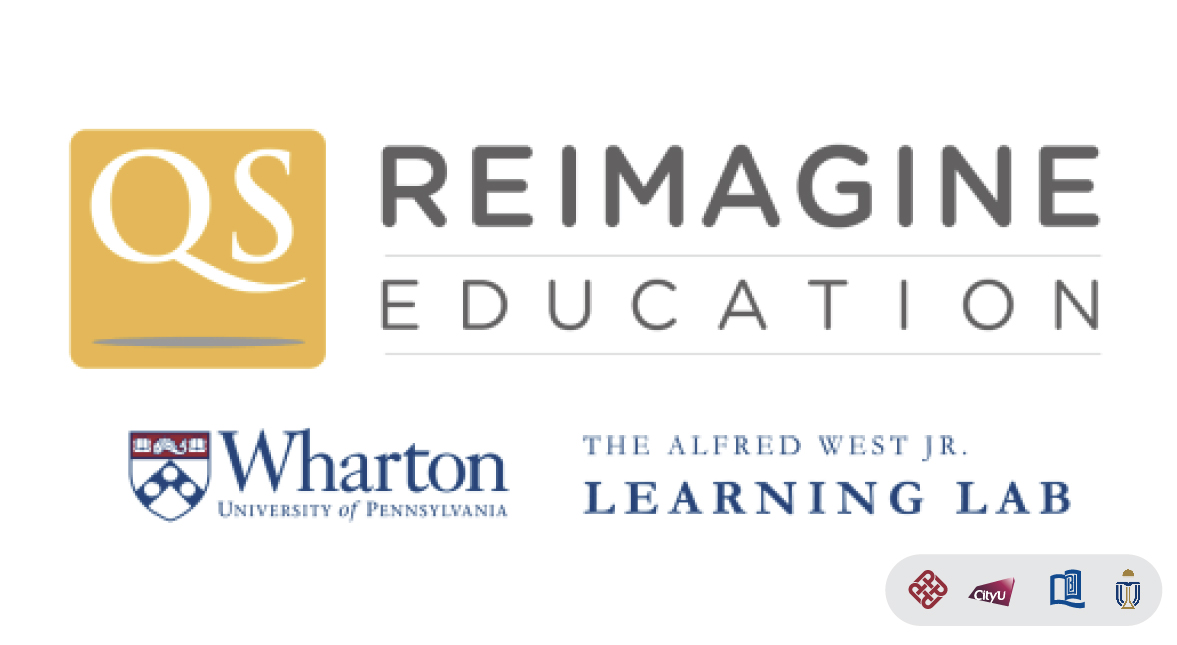 2022 QS Reimagine Award
Spearheaded by PolyU, the inter-institutional and inter-disciplinary 'English Across the Curriculum' (EAC) project team has brought together English language teachers, discipline academics, and educational technologists in the development of an innovative and interactive mobile app called "Capstone Ninja". The app delivers customised and discipline-specific English learning materials to address the challenges often encountered by students when preparing a capstone project. The EAC team recently also won the Hong Kong University Grants Committee Teaching Award 2022 in the Collaborative Teams category.
EAC international conferences