Facilitator: Barbara Tam, EDC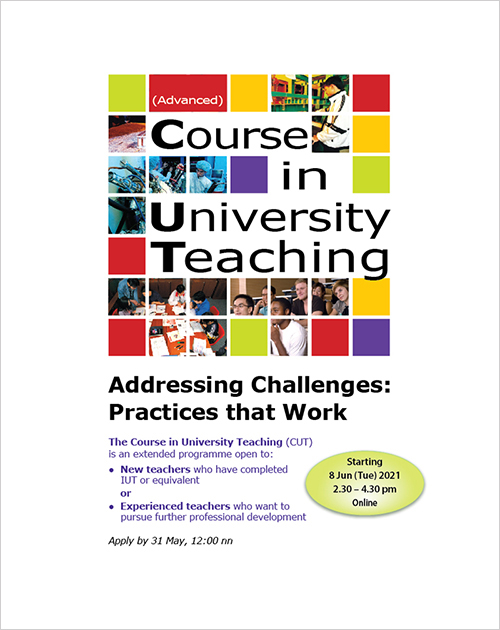 Facilitator: John Sager, EDC

Date: 8 Jun - 13 Jul 2021
Venue: Online
The Programme

The Course in University Teaching is an advanced level extended programme. It is aimed at teachers who are keen to learn alongside other PolyU colleagues who want to develop and excel. Those who enroll will have:


Completed PolyU's Introduction to University Teaching (IUT) or equivalent
or
Teaching experience - at least one year of full-time teaching experience at any university at Lecturer/Assistant Professor level or above
Participation provides opportunities for you to:
Hear from and engage with PolyU colleagues who have creatively addressed teaching challenges and/or succeeded in challenging students to take their learning to the next level
Examine good practices in using technology
Design and get feedback about interventions that will address the challenges you face or engage your students in a challenging learning experience
Experience new activities to use in your own teaching
Think about what it means to be a teacher in the 21st Century
Reflect on your teaching and get feedback that will enhance performance
Prepare your own Teaching Portfolio (optional)
Topics

Check out the weekly programme. We have deliberately chosen topics that are relevant to teaching in a variety of teaching/learning contexts and applicable to teachers – whatever their career stage. The later modules will be negotiated by participants and facilitators.
EDC Coordinators: John Sager & Barbara Tam