Applying Smart Sensing Technology (SST) and Geographic Information Systems (GIS), a PolyU-led innovation can help tree carers monitor the stability of trees.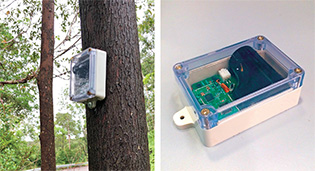 Trees are often damaged during typhoons and rain storms. If their root systems are not strong enough to sustain the wind force, they may tilt or even uproot, and eventually fall, posing risks to public safety. In Hong Kong, with more than 2.5 million trees planted in the past 5 years based on data from the Greening, Landscape and Tree Management Section of the Development Bureau, conventional tree monitoring method through visual inspection may not be sufficient. It is therefore important to establish a tree stability monitoring system with the objective and quantifiable data to facilitate green management in the city for longer tree lives.
In an effort to tackle this challenge, Dr Charles Wong Man-sing at the Department of Land Surveying and Geo-Informatics has led the three-year Jockey Club Smart City Tree Management Project with funding support of HK$32.28 million from the Hong Kong Jockey Club Charities Trust. The first stage of the project commenced in February 2018, with tailor-made sensors installed on the lower trunk of approximately 400 trees in Kowloon East, Wan Chai and Yuen Long Tai Tong to monitor their tilting angle using SST. Big data collected via the GIS-based platform will be used for the analysis of the trees' root-plate stability.
Taking various environmental factors into consideration, a set of thresholds will be determined by the project team to measure the root-plate movement. If a sensor shows that the tilting angle of a tree exceeds the threshold, the system will alert the project team to conduct a visit and verify the data and calibrate the system. When deemed necessary, the relevant tree management team will be informed to undertake actions in a timely manner.
The system can monitor trees on a massive scale and on a daily basis, showing the trees' geographical locations, their stability and any measurable change in tilt angles. Therefore, it plays an important role in enhancing the efficiency and effectiveness of tree management work, contributing to better living environment for the community in the long run.
In the second stage of the project, smart sensors will be installed on 8,000 urban trees in Hong Kong. The project also consists of public education elements. Programmes will be held to encourage students and relevant stakeholders to learn more about urban forestry and biodiversity, as well as to contribute to environmental protection. Apart from PolyU, other collaborators in the project include the University of Hong Kong, the Hong Kong University of Science and Technology, and the Friends of the Earth (Hong Kong).♦