A summer work uniform developed at PolyU has proved effective in protecting workers from hot and humid weather.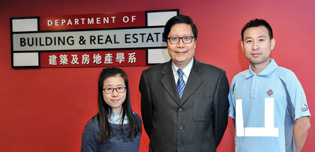 Summer in Hong Kong is hot and humid, with construction workers toiling outdoors for long hours under particular strain from the elements. To alleviate that strain, Prof. Albert Chan at PolyU's Department of Building and Real Estate partnered with the Institute of Textiles and Clothing and the Technological and Higher Education Institute of Hong Kong under the Vocational Training Council to develop a uniform to protect workers from extreme heat and high humidity through moisture management technology.
The uniform was designed and produced with the heat-moisture performance of fabrics, garment style and industry specific requirements in mind. New generation of moisture-management textiles made from nano-materials were used in producing a T-shirt and trousers uniform set. The new fabrics allow moisture to be transferred away from skin to the garment surface. With higher one-way transferability and liquid moisture management capacity, the technology improves fabric breathability, speeds up sweat evaporation and helps to reduce heat stress.
The research team conducted validity tests on the properties of the selected fabrics inside a climatic chamber at PolyU before undertaking a field study at a construction site. The quantitative results showed a remarkable reduction of physiological strain by 16.7% and body heat storage by 28.8% over conventional work-wear, with workers having lower core temperatures and heart rates, and better physiological strain indices. Qualitatively, the uniform, which received 85% support from workers, was considered cool, dry and comfortable without impeding work performance. In other words, the new uniform exhibited marked benefits for construction workers.
Recently, the early stage research preceding the development of this uniform has also brought Prof. Albert Chan's research team Hong Kong Institute of Project Management Award and Asia Pacific Project Management Achievement Award. ♦