A joint study by PolyU's Department of Applied Social Sciences and the Boys' and Girls' Clubs Association of Hong Kong has shown that through training, parents can help their children with ADHD.
People often have negative perceptions about children who squirm, fidget or continually talk, or those who are easily distracted and need re-direction and support to complete tasks. Some may even think that poor parenting skills cause Attention Deficit/Hyperactive Disorder (ADHD) in children. It seems that the public has little knowledge about ADHD, and the same is true for many parents of ADHD children. Such children impose increased care-taking and nurturing demands on their parents, who can benefit from effective behavourial management training that not only empowers them to create positive relationships with their children, but also helps them to support their children's development.
There is a growing international and local need for parent training to improve behavioural problems in children with ADHD. One of the leading local non-governmental organizations that provide support and services to children with special education needs and their families, the Boys' and Girls' Clubs of Association of Hong Kong (BGCA), has implemented a behavioural training programme for parents of ADHD children in its nine centres since 2009. In 2011, PolyU and BGCA began a jointly conducted three-year study to evaluate the programme's efficacy.
The programme covers behavioural features and difficulties encountered by children with ADHD, the hands-on skills needed to help those children pay attention and how to give instructions for and methods of emotional regulation. Led by Dr Alma Au May-lan, Associate Professor at the Department of Applied Social Sciences, the collaborative study determined the programme's effectiveness using quantitative measures during pre-intervention, post-intervention and at a two-month follow-up session. Qualitative case interviews, children's disruptive behaviour and reported parental stress were also considered. Among 177 participating parents of children with ADHD aged between 5 and 12, 125 were in an intervention group and 52 in a control group in the quantitative study. Seven parents and five social workers were interviewed for the qualitative analysis. Of the 135 boys and 42 girls studied, performance in cognitive assessments of visual and auditory attention and non-verbal intelligence were analysed.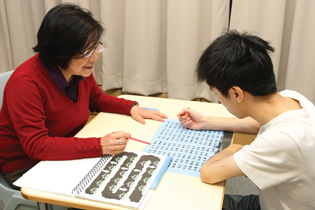 Using the Eyberg Child Behaviour Inventory, significant progress was found in reducing disruptive behaviour (such as being easily distracted, low concentration, poor single-task processing, having a temper and disturbing parents' work). Parental stress, as measured in areas such as time consumption and effort put into taking care of a child, worry about not doing enough for the child and lack of leisure time, was relieved.
Dr Au said that "the programme proved to be effective. The parent-child relationship improved intangibly, with more trust resulting from better mutual understanding and acceptance". She went on to comment that the parents "used more positive skills, including less beating and scolding, and more compliments, rewards, effective communication, persistence and patience etc. Encouragingly, parents' perceptions of their children spontaneously became much more positive". Parents in the intervention group showed that after the training they had developed better understandings of ADHD and their children, more acceptance of and tolerance towards them, more reasonable academic expectations, a greater focus on their children's strengths and potential, and were less likely to subjectively compare their children with others.♦
---