Green Deck - An Innovative Solution to Enhance the Environment
Neighbouring the heavily-loaded Cross Harbour Tunnel, PolyU has long witnessed problems in the vicinity – poor air quality, overloaded footbridge, poor connectivity within the district and lack of open space.
The University has thus proposed the construction of a Green Deck over the Cross Harbor Tunnel plaza to tackle these problems.
Linking MTR Hung Hom Station podium and PolyU campus, the proposed 43,000 sq. m. deck area can accommodate a wide variety of recreational, cultural and sports facilities while solving existing problems in the district. This proposal will not only provide people with a green open space to unwind from the hustle and bustle of city life, but also help foster sustainable development through a number of research projects undertaken by PolyU experts.
The University is soliciting views from various stakeholders to work out a plan that will benefit the community as well as enhance the environment.
View or download more details on the proposal:
Full version
Summary
2014_Feasibility study on the proposed Green Deck


Green Deck as an Innovative Social Project
an innovative solution to problems in Cross Harbour Tunnel vicinity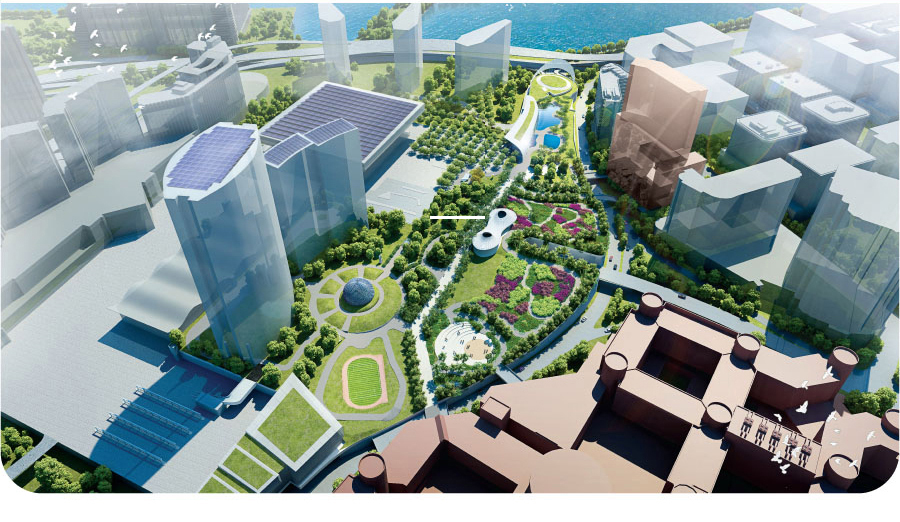 Green Deck Project Video

Benefits for the Community
URBAN RENEWAL - More than open space
Other than a park of green open space, a viewing deck with Victoria Harbour as the backdrop, art gallery, amphitheatre, sports complex, outdoor exhibition area, play area for the kids, reflection pool are among the items that can be considered for the Green Deck, allowing people to relax and unwind, away from the hustle and bustle of city life.
IMPROVED CONNECTIVITY - Save time add convenience
The Green Deck project will enable the provision of an enhanced pedestrian and cycling track network covering Homantin, Hung Hom, Tsim Sha Tsui, Jordan and the harbourfront area, facilitating commuting from one place to another while reinforcing an intimate inter-district relationship and a green life style.
ENHANCED ENVIRONMENT - Fostering sustainable development
A number of research projects are underway with a view to achieving low carbon consumption and emission. An air filtration and purification system including electrostatic precipitators for use to filter and purify the polluted air is being included in the scheme. Reduction of Heat Island Effect will be achieved through the increase in biomass and vegetation.
The deployment of environment-friendly items including photovoltaic cells, wind catchers, solar lighting, recycled grey-water, recycled glass and DeNOx agent are being explored.
Green Deck Related Researches by PolyU Academics

Copyright © 2015 The Hong Kong Polytechnic University. All Rights Reserved.