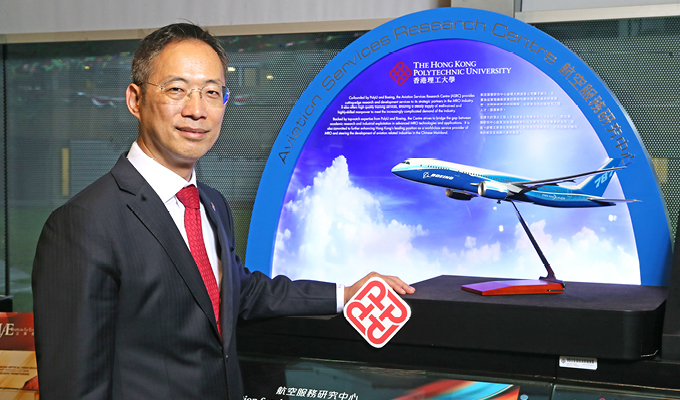 PolyU has a long history of research and innovations with practical value, bearing fruits in business and industry advancement. Over the years, the University has also made impactful achievements in fundamental research, bringing benefits to society, the nation and the world. In this issue, Ir Prof. Alex Wai, Vice President (Research Development), discussed the driving force behind PolyU's research efforts.
What is the underlying principle of driving research excellence in PolyU?
In the last 21 years at PolyU, I met dedicated colleagues who have been contributing to the advancement of science, technology, innovation and other areas. There are students who are keen to actualise their potentials by making full use of the learning opportunities. Touched by their commitment, quest for excellence and drive to resolve problems, I am convinced that the potentials of our academics and students can be unleashed and actualised with a sense of pride. Building the PolyU sense of pride and supporting colleagues in their quest for new knowledge has always been the driving force.
How do you seek opportunities in driving research development?
With a vision to build PolyU as a top-notch university generating research with impact, I see opportunities oblivious to many. A firm believer in PolyU's strengths, I try to make full use of the capabilities and strengths of colleagues in different disciplines. I created platforms and leveraged opportunities for them to develop their research and fill gaps in various fields.
The participation in space exploration missions, the establishment of Aviation Services Research Centre, and realisation of international applications of our railway monitoring technology are such examples. PolyU's involvement in space adventures started in the 1990's when our engineering experts started putting their research in space tools into practical use. When mainland China announced its plan to explore the moon in the mid 2000's, I saw the opportunity for the University to support the nation's initiatives. Instead of partnering with Russia and Europe, I convinced our project team to redirect its focus on collaborating with the motherland. The Chang'e projects came true and the rest is history. With determination, we successfully grasped the opportunities and capitalised on our strengths in surveying and precision engineering, contributing to the series of Chang'e moon missions.
Did you encounter challenges during the course of realising projects?
Oblivious opportunities come with risks that are more obvious than benefits. Soliciting support for such ventures can be challenging. With every confidence that the capabilities of the research teams can be fully actualised given the chance, I overcame the challenges by managing risks properly and making informed decisions.
Our contribution to China's Chang'e 3 lunar exploration programme is an example. Few outside the space exploration circle realise how competitive it is to participate in a space mission, even with our track records of involvement in two space missions. The prestige of association with the nation's first lunar exploration project makes a seat at the Chang'e table highly sought after by research institutions and universities in the mainland.
Through unrelenting lobbying and thanks to the superb engineering expertise of professors and the Industrial Centre, we overcame many hurdles before being commissioned to design and fabricate the Camera Pointing System later deployed aboard the Chang'e 3 lander.
How does the University foster the culture of inter-disciplinary research and research collaboration? And how do you help improve the chance of getting funded?
We introduced the Research Salon which provides a platform for researchers in various disciplines to exchange and inspire each other. After all, research is curiosity driven and so are researchers.
Needless to say, just having research ideas is not enough. Writing good proposals and impressive interview performance are as important. I help researchers with the do's and don'ts of proposal writing and rehearsals for interviews. As reflected in the success rate of granting Collaborative Research Fund, I think we are moving in the right direction.
Apart from space exploration, aviation and railway monitoring, what other key research areas is PolyU focusing on?
Tapping into the government's emphasis on innovation and technology advancement as well as the available resources and funding, we shall further develop our strengths in food science, translational medicine, life sciences, sustainability, 3D printing, big data and neuroscience to benefit society and mankind.
The University prides itself on its professional education and innovative research as well as close ties with business and industry. At PolyU, we are highly cognizant of the role that technology plays in a knowledge-based economy and its growing importance in enhancing economic growth and global competitiveness. The technological breakthroughs that we have developed through our research initiatives have had major impacts enhancing people's lives. Our innovative research with practical value has complemented our efforts in internationalization. The PolyU-developed optical fibre sensing technologies using Fiber Bragg Grating sensors for automatic monitoring of subsidence as well as the research on vibration control in railway systems are obvious examples. These technologies have not only been applied to railways in Hong Kong, but also to high-speed rail in the Chinese mainland and other countries around the world. In short, our innovative technology has helped us shine on the international arena. These achievements were a few of the many innovative research projects that have been conducted at PolyU. We strive to drive innovation for a better future. Our researchers are making high-impact contributions to sustainable development and the betterment of Hong Kong and the motherland. Recently, world-renowned innovators from higher education, government and business sectors gathered in an international summit in Hong Kong this summer to explore how to enhance universities' impacts through innovative research and teaching for the benefit of the society and mankind. The inaugural Times Higher Education (THE) Innovation & Impact Summit, co-hosted by PolyU and THE, ran from 31 May to 2 June 2017 at Hotel ICON in Hong Kong. A key celebratory event of PolyU's 80th anniversary, the Summit featured keynote speeches and a series of thought-provoking panel discussions under the theme of "Powering Universities' Economic and Social Impact through Innovative Research and Teaching".