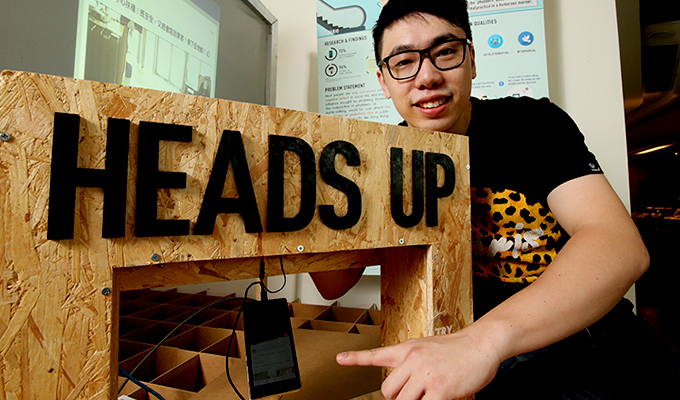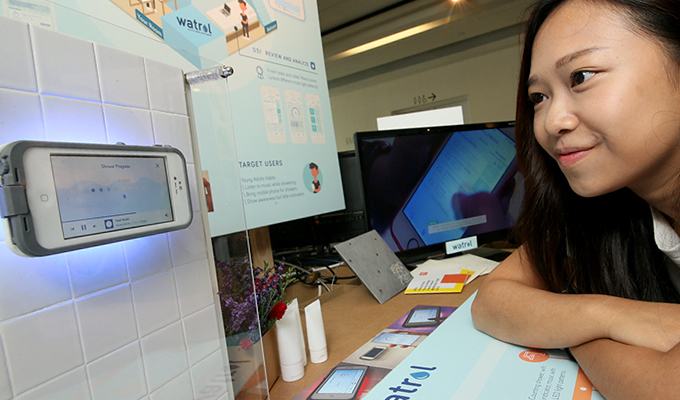 This year's PolyU Design Annual Show saw the innovations of young designers to improve daily living. Under the theme "Blazing Creativity", 300 pieces of student work in different nature were showcased, including advertising, digital media, environment and interior, product, interactive media and communication designs.
Highlights of some creative exhibits:
NOAH – Location and Safety Water Drone System by Vivian Ng
This product consists of a bracelet with built-in global positioning system and a water drone with installed camera lens in kickboard design. Swimmers wearing the bracelet can press a signal button and call for help when they are at health risk or encounter accidents.
Heads Up by Chow Lap
A device that comes with a sensor, a red laser beam projector and a face-recognition system can be installed on the large screen or ceiling in MTR stations. When the light of a phubber's phone is detected by the device, his/her own image will be projected on the screen or ceiling. This helps remind phubbers to stop phubbing in a humorous way.
Watrol by Sharon Li
A water usage control app for bathing can calculate shower duration, set target shower duration, and play music with LED light patterns etc.