![if !IE]> <![endif]>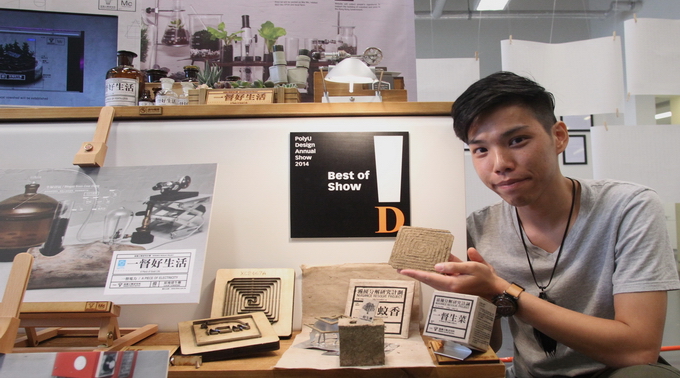 In recognition of students' creativity in social innovation, Jockey Club Design Institute for Social Innovation (J.C.DISI) at PolyU has organized the "Jockey Club Design for Society Student Award 2014" earlier. Six graduating students were presented with awards for their good effort in tackling social issues through design innovation.
Congratulations to the following awardees stringently selected by a jury comprising designers, scholars, as well as communal and cultural leaders. The Grand Award went to Dick S.L. Au*, whose innovative ideas will be executed in the coming year with support of J.C.DISI.
Jacqueline Cheung (Industrial & Product)
"Glass Street", a combination of products and service through designing and utilizing a mobile glass kiln workstation, aims to raise awareness of landfill problems and promote up-cycling of glass.
Sunny Y.H. Cheung (Digital & Interactive Media)
"Green Plate Arcade", a fun and interactive installation in the student canteen which also serves as a token for an arcade, aims to remind students in choosing meal portion wisely and minimize the amount of leftovers.
Rachel Y.L. Wong (Art & Design in Education)
"Reading children's minds" is a set of question cards designed to help parents understand their children through the children's artwork and facilitate mutual communication. The innovation encourages parents' appreciation towards creativity through amplifying the value of their children's work.
* Dick S.L. Au (Advertising)
"A Piece of Good Life", an advertising project originated from Mui Wo, aims to lessen the infamy of cows through multiple promotional channels, including the production of mosquito repellent and plant fertilizer by cow waste, and video clips showing the bright side of having the cattle in the community.
Emily C.K. Fok (Environmental & Interior)
"Cultiland-farm Market", a project inspired by the dawn market at Tin Shui Wai, aims to improve the land use along the river bank including agriculture, education, community and market areas.
Ho Ching Lam (Visual Communication)
"Grassroot – Life" is a project to promote Hong Kong street market culture through designing a book and an interactive game. More importantly, the project fosters the appreciation of traditional skills and tools.