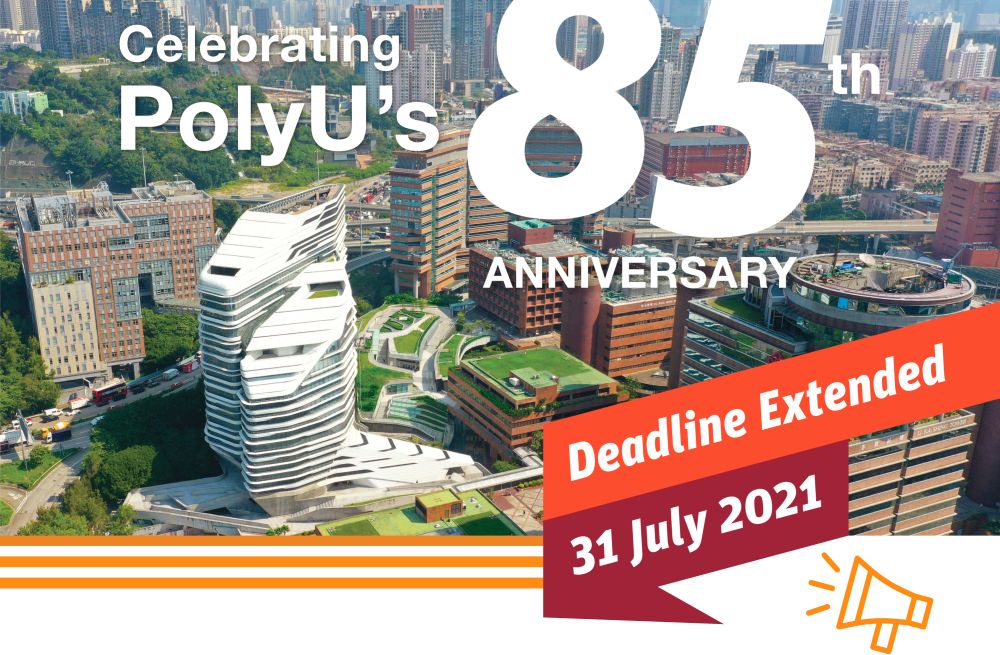 PolyU will celebrate its 85th anniversary in 2022. As you may know, we have been welcoming ideas and contributions from members of the PolyU community to help commemorate this important milestone. Participants have the chance to earn a cash award of HK$10,000 or other prizes.

We are delighted to have received many submissions for the lyrics contest. However, we would like to invite more people to submit entries for the other categories, namely videos, souvenirs and memorabilia. Therefore, we are pleased to extend the submission deadline for these three categories to 31 July 2021.

In particular, we warmly welcome your ideas and contributions in the following areas:

PolyU is a place where students and staff members can thrive and realise their potential. We invite you to create a short video to showcase your fun, fulfilling and rewarding experiences at PolyU. We recommend the video be filmed in 16:9 ratio, within 3 minutes in length and in mp4 or mov format. The video should cover one of the following themes:


1. Campus Life
Stories about your campus life, such as enjoyable moments, friendships, and rewarding activities or discoveries around campus or student halls


2. Research and Innovation
Stories about how your research and innovation can make an impact on society


3. Teaching and Learning
Stories about how your teaching innovations can enhance the quality of teaching and learning


4. Community Service and Engagement
Stories about your meaningful activities or projects, such as Service-Learning experience or social innovation projects, that contribute to the community

Act Now:
Complete the Online Submission Form and upload your video link with a description to illustrate the key message and presentation of the video. The submissions will be judged based on the following criteria: video quality, relevancy to themes, originality, appropriateness, creativity, and storytelling ability.

The University would like to give a souvenir to all stakeholders of the PolyU community in celebration of the special occasion of PolyU's 85th anniversary. You are invited to contribute your original design of a souvenir / a series of souvenirs (physical and/or digital).

The designs will be considered based on their
| | | | | |
| --- | --- | --- | --- | --- |
| | 1) | | creativity and originality; | |
| | 2) | | relevance to the 85th anniversary celebrations; and | |
| | 3) | | feasibility for future production of the souvenir(s) if applicable. | |

Act Now:
Complete the Online Submission Form and upload your design proposal that includes image/multimedia files of the design(s) and a description that explains the design concept and elements.

Sharing fond memories of PolyU and its memorabilia is a powerful way to celebrate the 85th anniversary and to showcase the milestones of our University. We invite you to contribute PolyU memorabilia, such as valuable photos, certificates, teaching materials, publications, mementos, uniforms, souvenirs, or any items related to PolyU and its forerunners. These valuable collections will be exhibited at anniversary events, and included in anniversary publications.


Act Now:
Complete the Online Submission Form with a description and photo(s) of the item(s) you would like to share. The Alumni Affairs and Development Office will contact you for collection arrangements.