Research Laboratory and Facilities

Biomedical Engineering Laboratories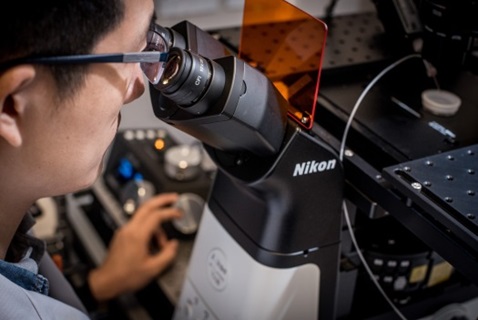 Cell Biology & Physiology Laboratory (Y413, Y413a, Y414)
Laboratory Facilities
Combined Electrophysiology and Fluorometric Imaging System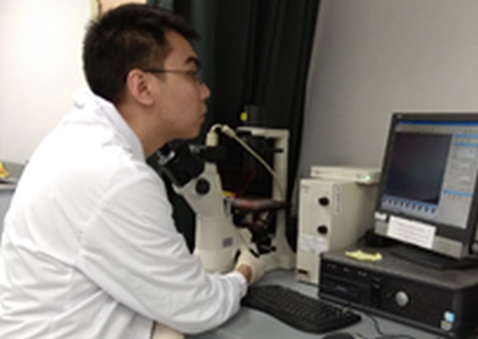 Molecular & Cellular Engineering Laboratory (Y503)
Laboratory Facilitie
Autoclave
Ultrapure Water Purification System
Gels and Western Blots Imaging and Analyzing System
Real-Time PCR Detection System
Fluorescence Microscopy Imaging System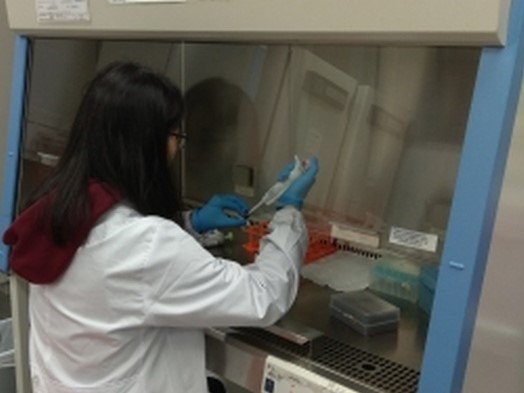 Biological Cell Culture Laboratory (Y503a)
Laboratory Facilities
Cell Culture Facilities: Class II
Biological Safety Cabinet
CO2 incubators
Centrifuge
Micorscope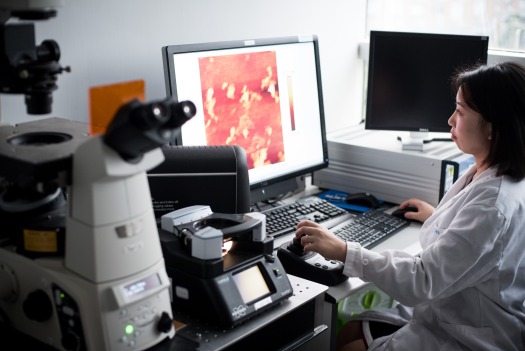 Mechanobiology Laboratory (Y503b)
Laboratory Facilities
Bruker Atomic Force Microscopy System (AFM)
Fluorescence Resonance Engery Transfer (FRET)
Microscopy Imaging System
Harvard Peristaltic Pump-based Circulatory System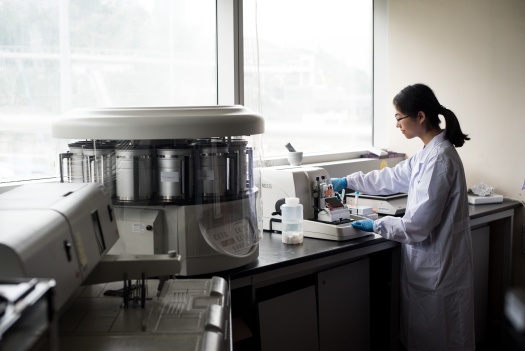 Small Animal Live Imaging Laboratory (Y504)
Laboratory Facilities
LAZR ultrasound and photoacoustic micro-imaging for small animals
Leica histology platform
OLYMPUS BX51WI microscope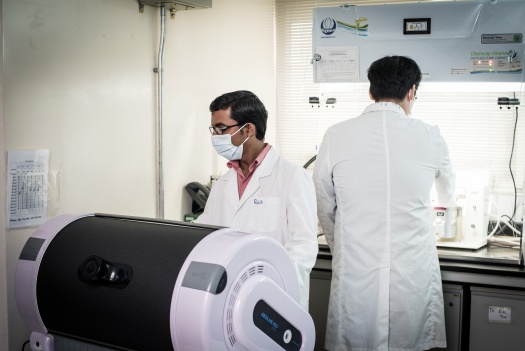 Small Animal Research Laboratory (Y505)
Laboratory Facilities
Ultrasound Stimulation Platform (Olympus LIFU and Sonic Concepts HIFU transducer with 500 watt power amplifier).
Electrophysiological Monitoring System (AM System amplifier and CED Data acquisition system).
Faradays cage for in vivo study.
Biosafety cabinet for in vitro study.
Gas machine for small animal anesthesia.
Stereotaxic frame and thermal pad for small animal surgery.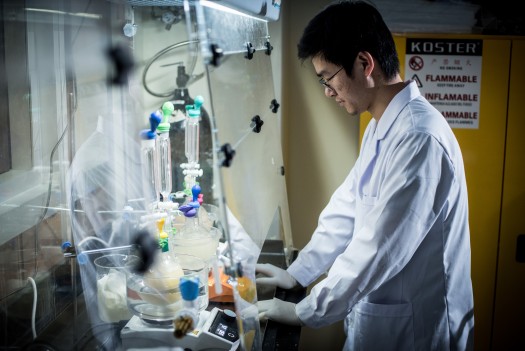 Biomaterials Laboratory (Y506)
Laboratory Facilities
SUNP CPD1 bioprinter
Nikon ECLIPSE Ts2R-FL fluorescence microscope
Mutli-collector electrospining platform
Integrated microfluidic system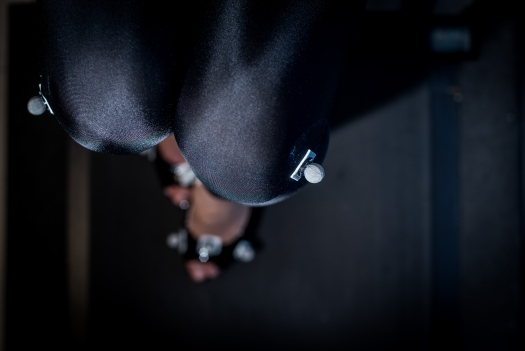 Biomechanics Laboratory (ST405)
Laboratory Facilities
AMTI force platforms
Kistler force platform
8-camera Vicon MX motion analysis system
Galileo sports vibration platform
Fscan pressure measurement systems
BodiTrak sitting pressure mapping system
Software for computational model
Human Locomotion Laboratory (ST414)
Laboratory Facilities
Vicon 370 3-dimensional motion analysis system
AMTI force plates for gait analysis
BTS-TELEMG multichannel electro-myographic system
Biomedical Ultrasound & Bioinstrumentation II & IV (S103 & S109)
Laboratory Facilities
OLYMPUS Microscope
Hamamatsu sCMOS
Optical Platform
Shumi Optogenetics toolkits
Multichannel system MEA
Data Analysis workstation
Digital Oscilloscope
Function Generator
E&I Power amplifier
Step Motor and Motion control
DC Power supply
Small Animal Locator
RWD Life Science 77001 Desktop Binocular Stereo Microscope
LIFE TECHNOLOGIES PowerEase 300W electrophoresis power pack
LIFE TECHNOLOGIES PowerEase Mini Gel Tank (x 2)
Kylin-Bell GL-150B Dry Thermostat heat block
Jenway 3510 pH meter
Nuaire CO2 incubator
C. elegans refrigerated incubator
LNB Instruments PGX-18A Light incubator
Haier Biomedical pharmaceutical refrigerator
Haier Biomedical deep freezer
Zenith Lab DHG-9070A Drying oven
D&T ES500 analytical balance
Adam Equipment NBL 214e Analytical Balance
Dynamica Velocity 13µ minifuge
Pingfan Instrument TDZ5-WS Low-speed swinging bucket centrifuge
Hermle Z 216 MK Refrigerated microcentrifuge
DLAB MX-S Vortexer
Labnet C1200 Microcentrifuge
HERMLE Microcentrifuge
Froilabo EM130 Magnetic hotplate stirrer
Kylin-Bell TS-200 Orbital Shaker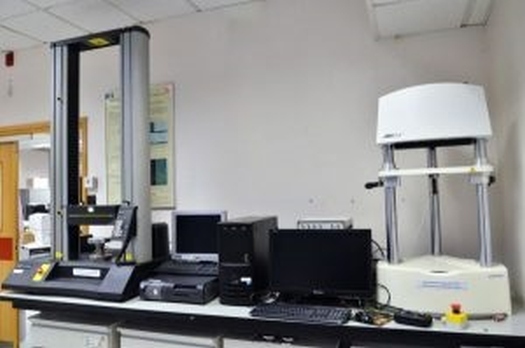 Tssue Biomechanics Testing Laboratory (S106)
Laboratory Facilities
Standard water contact angle goniometer
Biaxial testing machine (MTS, load cell: 5, 2.5 k, and 10 kN)
Uniaxial testing machine (Hounsfield, load cell: 100, 1 k, and 10 kN)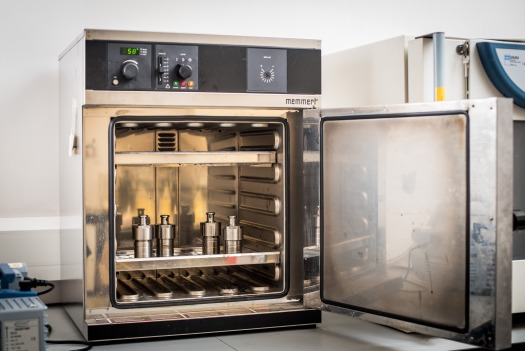 Micro-device and Biosensor Laboratory (S106a)
Laboratory Facilities
VersaSTAT3 electrochemical analyzer
Nikon FN1 multipatch upright focusing nosepiece microscope system
HEKA Elektronik patch clamp amplifier
Harrick PDC-32G-2 plasma cleaner
Class 1000 clean hood
Memmert heating oven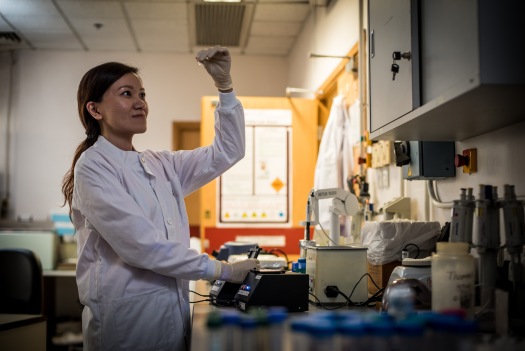 Nanobiotechnology Laboratory (S106b)
Laboratory Facilities
Analytical balance
Electrochemical analyzer
Fume hood
Heating mantle
Hot plate (with and without magnetic stirrer)
Microcentrifuge
Particle size and zeta potential analyzer
pH meter
Refrigerators and freezers
Thermomixer
Ultrasonic cleaner
UV/visible spectrophotometer
Vortex mixer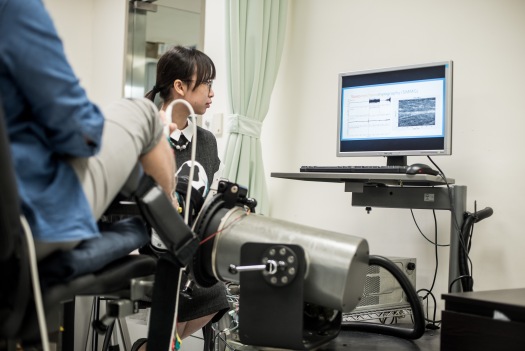 Biomedical Ultrasound & Bioinstrumentation III (S107)
Laboratory Facilities
Supersonic ultrasound shear wave elastography
Neuro monitoring system (TCD + EEG)
Integrated 3D TCD, finometer, and gas analyser system
Scolioscan system
EUB-8500 (Hitachi)
3D guidance electromagnetic tracking system(NDI)
Multi-channel physiological signal acquisition and processing system (Chengdu Instrument Factory)
Humac norm testing and rehabilitation system (Computer Sports Medicine)
Soft tissue palpation ultrasound system (TPUS)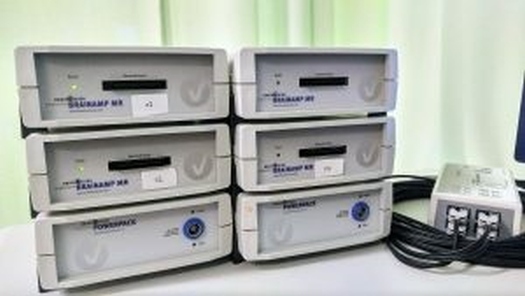 Neurorehabilitation & Neural Engineering Laboratory (S107a)
Laboratory Facilities
Rehabilitation Sleeves
Intention-driven robotic hands with functional electrical stimulation (FES-robots)
Intention-driven robotic hands
Brain training device
EMG-driven multi-joint robotic rehabilitation system (PolyJbot)
G.Tec EEG amplification system
Magstim 200 transcranial magnetic stimulation system
Oxymon – Artinis Medical Systems for near-infrared spectroscopy
DNI Nevada DS6100 patient simulator for ECG simulation
Biomedical Ultrasound and Bioinstrumentation I (S108)
S108-small-1
Laboratory Facilities
Verasonics Ventage 128 Ultrasound System
Linear translation motors and rotation motors (Newport)
Ultrasound intensity measurement system
AQUAS water conditioner
Optical coherence tomography (OCT) development platform
Optical Table
Ultrasonix Touch (Analogic Corporation)
Ultrasonix RP (Analogic Corporation)
Apogee 1200 (SIUI)
Oscilloscope (Tektronix)
Function generator (Tektronix)
Measurement exciter (Brüel & Kjær)
Power amplifier (Brüel & Kjær)
Ultrasound pulser receiver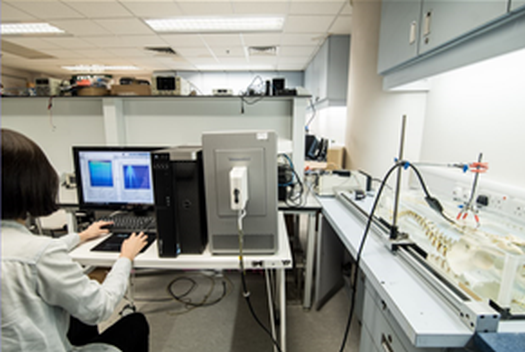 Biomedical Ultrasound & Bioinstrumentation I (S108)
Laboratory Facilities
Verasonics Ventage 128 Ultrasound System
Linear translation motors and rotation motors (Newport)
Ultrasound intensity measurement system
AQUAS water conditioner
Optical coherence tomography (OCT) development platform
Optical Table
Ultrasonix Touch (Analogic Corporation)
Ultrasonix RP (Analogic Corporation)
Apogee 1200 (SIUI)
Oscilloscope (Tektronix)
Function generator (Tektronix)
Measurement exciter (Brüel & Kjær)
Power amplifier (Brüel & Kjær)
Ultrasound pulser receiver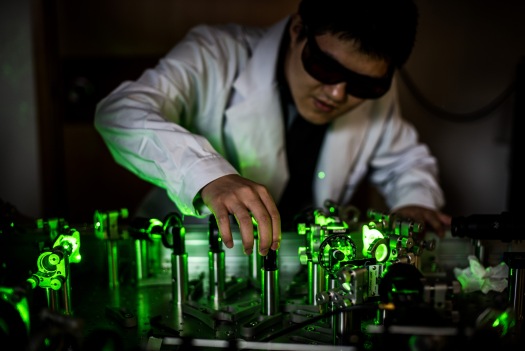 Biophotonics Laboratory (S108a)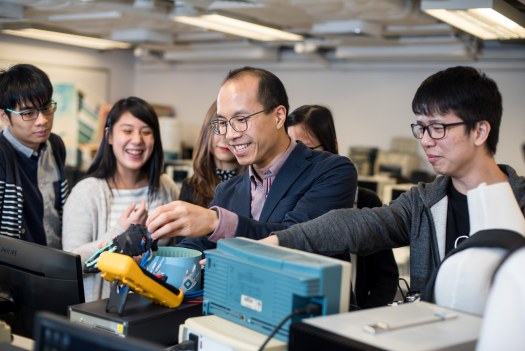 Biomedical Engineering Teaching Laboratory (GH198)
Laboratory Facilities
Ultrasonic cleaner
PowerLab systems (ADInstrument)
Tektronix oscilloscope
Signal generator
Topward DC power supply
NI USB data acquisition card
Soldering tools
Desktop PC with software
NI LabVIEW academic site license
MATLAB teaching license
MS Visual Studio
8051 MCU development tool
Ardunio development tool
Android development tool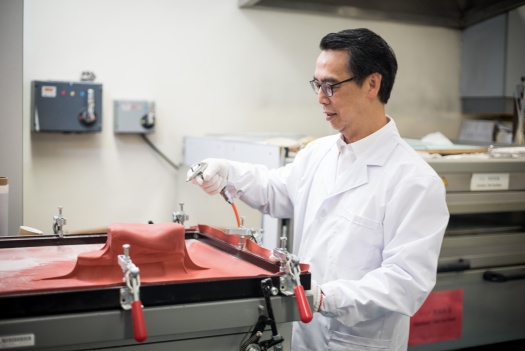 P&O Laboratories (GH041c, GH044, GH044a, GH046)
Laboratory Facilities
Prosthetic and Orthotic Scanner: Spectra™ Handheld Optical Scanner (Vorum)
Prosthetic and Orthotic Scanner: Structure Sensor (Occipital, Inc.)
Ultrasonix SonixTablet Ultrasound Machine (Providian Medical Equipment)