第2屆生物醫學工程創意競賽之 「愛.創耆樂」
Others

Summary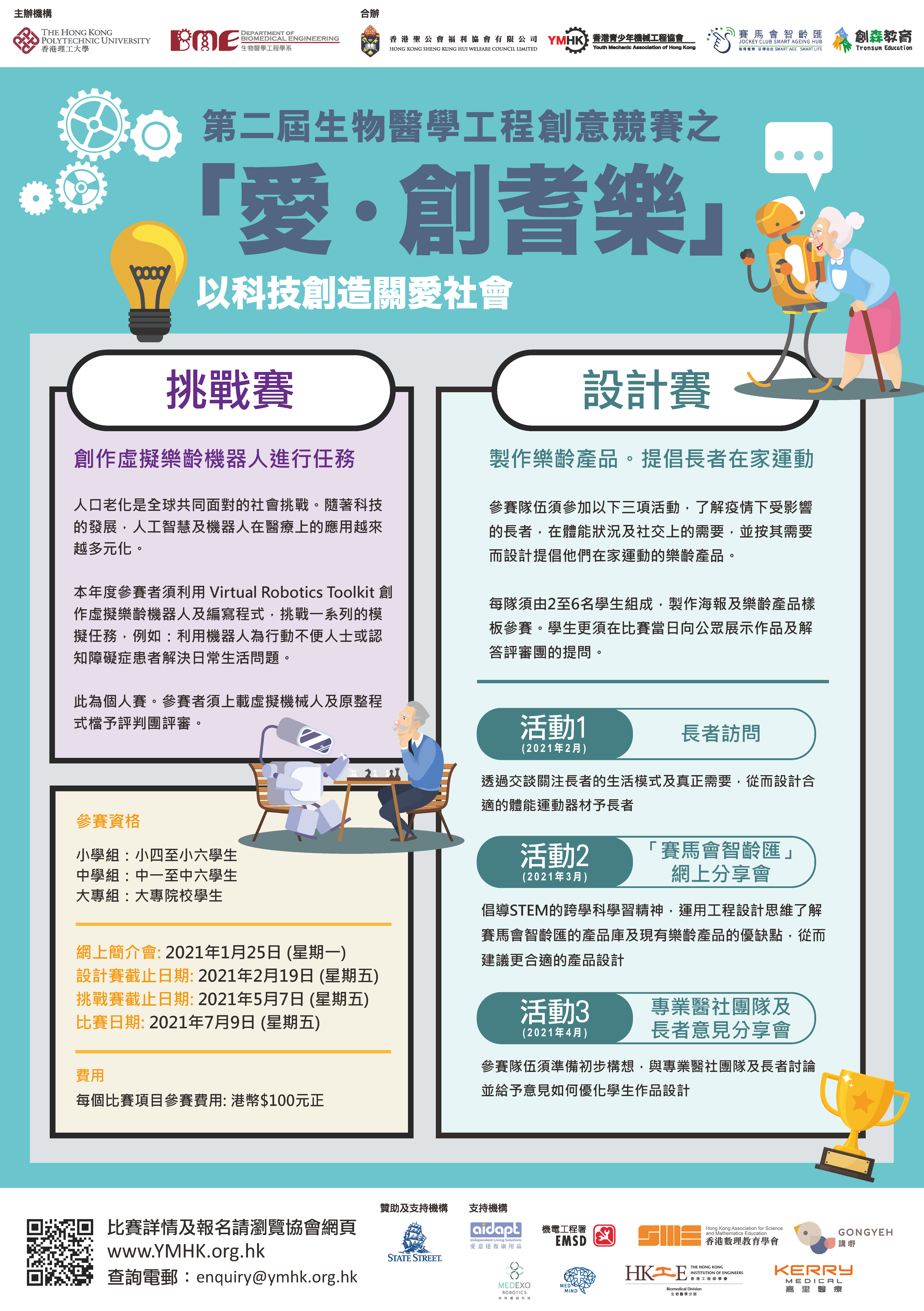 第2屆生物醫學工程創意競賽之
「愛.創耆樂」
生物醫學工程創意競賽有助香港孕育年輕一代研發創新科技及解決方案,以應對未來社會因人口老化而不斷湧現的需要。第二屆生物醫學工程創意競賽之「愛。創耆樂」繼續秉持STEM的跨學科學習精神。我們鼓勵學生運用工程設計思維了解現有輔助工具的優缺點,關注用者的真正需要,從而建議更合適的設計。
比賽項目
1. 設計賽
製作樂齡產品,提倡長者在家運動

截止報名日期︰

2021

年

2

月

8

日

 (

星期一

), 

下午

5

時正截止

參賽隊伍須參加大會安排的

三項活動

,透過訪問長者了解其需要,並透過活動了解現有樂齡產品的設計及其優缺點
參賽隊伍須設計

海報

及製作樂齡

產品樣板

參賽去驗證其概念
2. 挑戰賽
創作虛擬樂齡機器人進行任務

截止報名日期︰

2021

年

5

月

7

日

 (

星期五

), 

下午

5

時正截止

參賽者須利用

Virtual Robotics Toolkit(VRT)

創作虛擬樂齡陪伴機器人及編寫程式來完成一系列的模擬任務

模擬任務包括照顧行動不便人士及認知障礙症患者等
比賽日期︰2021年7月9日(星期五), 時間及地點待定。
立即登入以下網址 (http://ymhk.org.hk/eventDetail.php?id=11) 了解比賽的相關資訊。設計賽的簡介會已於2021年1月25日於網上舉行,歡迎到大會網站觀看錄影片段。
其他重要日期 (設計賽) 
活動1 – 長者訪問 (只需出席其中一日) 
日期︰2021年2月22日至 2021年2月26日
時間︰下午2時30分至4時正
地點:線上ZOOM進行
活動2 –「賽馬會智齡匯」網上分享會 (只需出席其中一日) 
日期︰2021年3月10日或 2021年3月12日
時間︰下午4時正
地點:線上ZOOM進行
活動3 – 專業醫社團隊及長者意見分享會 (只需出席其中一日) 
日期︰2021年4月15日、4月19日至20日、4月22日至23日
時間︰下午2時30分至4時正
地點:線上ZOOM進行
The 2nd Biomedical Engineering Innovation Competition 
"Love. Innovate for Happy Ageing " 
The Biomedical Engineering Innovation Competition aims to nurture our younger generation to develop innovative technologies and solutions to meet the emerging needs of the society due to the aging population in Hong Kong. The 2nd Biomedical Engineering Innovation Competition "Love.Innovate for Happy Ageing " continues to uphold the spirit of interdisciplinary learning through STEM. We encourage students to use engineering design thinking to understand the advantages and disadvantages of existing assistive technologies, pay attention to the needs of end users, and suggest a more appropriate product design. 
Categories 
1.       Design Competition 
Design and develop a product to encourage the elders to exercise at home during COVID-19 

Application deadline: 

2021 February 8 (Monday), 5:00pm

Each team needs to participate in 

3 events

 to communicate with the elders and to understand the design of existing gerontechnology products 
Each team needs to design a 

poster

 and create a 

prototype

 to prove their design concepts 
2.       Challenge Competition 
Create a virtual robot for Elderly aiming to accomplish a series of tasks 

Application deadline: 

2021 May 7 (Friday), 5:00pm

The participant needs to use the software Virtual Robotics Toolkit (VRT) to create their own virtual robotics and write the program aiming to accomplish a series of tasks set by the host 

A series of virtual tasks include taking care of the disabled or dementia patients etc. 
Competition Date: 2021 July 9 (Friday) 
Please visit our website (http://ymhk.org.hk/eventDetail.php?id=11) for more information about the competition. The briefing session of Design Competition was held on 25th January 2021. The video recording has been uploaded to the event website.
OTHER IMPORTANT DATES FOR TEAMS (DESIGN COMPETITION) 
Event 1 – Interview with the elders(Attend 1 day only) 
Date︰2021 February 22 – 26  
Time︰2:30pm – 4:00pm 
Venue:ZOOM live 
Event 2 – Online Sharing by Jockey Club Smart Ageing Hub (JCSAH)(Attend 1 day only) 
Date︰2021 March 10/ March 12  
Time︰4:00pm 
Venue:ZOOM live 
Event 3 – Online Sharing with the Healthcare Professionals & the Elders(Attend 1 day only) 
Date︰2021 April 15, 19-20, 22-23 
Time︰2:30pm – 4:00pm 
Venue:ZOOM live