AP Seminar - PMN-PT Single Crystals based Pyroelectric Detectors for NDIR Gas Analyser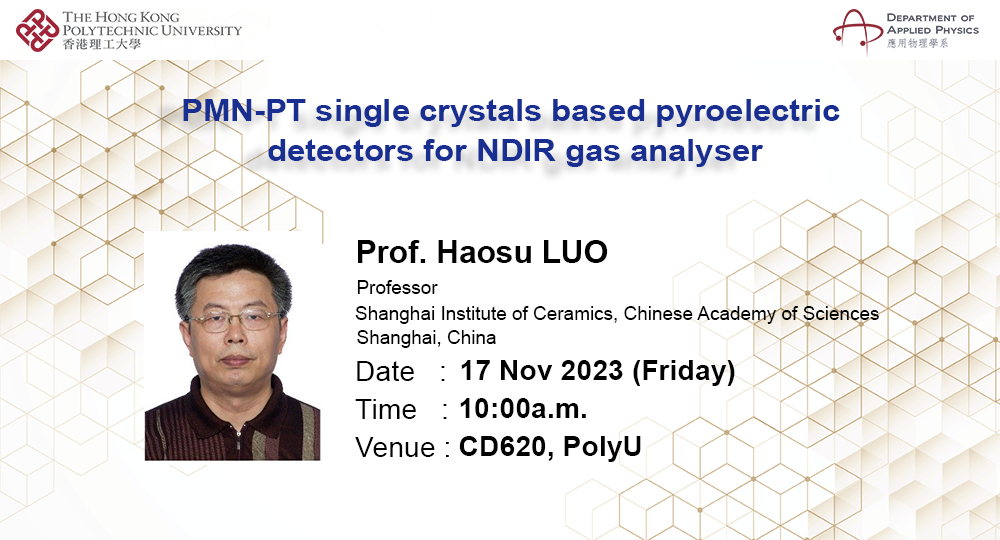 Venue

CD620, 6/F, Wing CD, PolyU Map
Summary
Pyroelectric infrared detectors have the advantages of high detectivity, wide spectral response, broad working temperature, low power, high reliability, and they could be used in non-dispersive infrared (NDIR) gas concentration analyzer.
The NDIR analyzers have been developed for CO2, CH4, VOCs, H2S gases by novel pyroelectric detectors in our laboratory. Perovskite relaxor-PT single crystals Pb(Mg1/3Nb2/3)O3–PbTiO3 (PMNT) and Pb(In1/2Nb1/2)O3–Pb(Mg1/3Nb2/3)O3–PbTiO3 (PIMNT) exhibit excellent pyroelectric performances, which have been used as pyroelectric chips to fabricate high-performance pyroelectric detectors. The pyroelectric coefficient (p) reaches at 15.3×10-4 C/m2K, and the detectivity figure of merit (Fd) reaches at 40×10-5 Pa-1/2 for Mn-doped PMN-0.26PT, which are about seven times and 70%, respectively, higher than the conventional pyroelectric LiTaO3. The dielectric loss has been reduced from 0.3% in pure PMNT to 0.05% in Mn-doped PMNT. The working temperature range has been increased from 60 °C of binary PMNT to 90°C of ternary PIMNT. PIMNT single crystals have higher Curie temperature to enhance the temperature stability of pyroelectric performances.
The high-performances pyroelectric infrared detectors have been fabricated with Mn-doped PMN-PT single crystals under voltage mode and charge mode. The specific detectivity D* have reached at 3.01×109 cmHz1/2/W@4Hz and 2.21×109 cmHz1/2/W@10Hz for charge-mode, which is six times higher compared to commercial LiTaO3-based detectors. These high- performance infrared detector have been used to developed NDIR gas analyzer to measure the concentration of CO2, CH4, VOCs, H2S etc.
With Mn:PMNT and Mn:PIMNT single crystal-based dual-channel compensated current mode detectors, the CO2 and CH4 gas detection module was built based on NDIR technology. The modules were calibrated not only for temperature but also zero drift by the standard gases upon Beer-Lambert Law. The cross interference of mixed gases was also calibrated to enhance the accuracy of gas concentration. The results demonstrate that relaxor-PT single crystal-based novel high performance pyroelectric detectors are suitable for gas analyzers by the NDIR technology to detect many different gases.
Keynote Speaker
Prof. Haosu Luo
Professor
Shanghai Institute of Ceramics, Chinese Academy of Sciences
Dr. Haosu Luo, professor, and the group leader of ferroelectric single crystals and devices at Shanghai Institute of Ceramics, Chinese Academy of Sciences. He has significantly contributed to the growth and development of piezoelectric single crystals, especial for the growth and practical application of PMN-PT single crystals in the world. Current researches involve the growth of high-Tc relaxor-based single crystals, lead free piezoelectric single crystals, and their device applications on ultrasonic transducers, infrared detectors, ME magnetic sensors, and various device applications. He is a pioneer in the world for the single crystal growth of piezoelectric materials and devices fabrication. He has developed many innovative technologies for the growth and application of PMN-PT single crystals. He has involved more than 700 publications. He was nominee of EEE-UFFC Ferroelectrics Recognition Award in 2014 and 2015. He received the 2nd Prize of National Award for Technological Invention in 2005, and the first prize of Shanghai Natural Science Award in 2013.