Drucker Academy-PolyU Partnership for ESG Entrepreneurship and MLA Leadership
Peter F. Drucker Academy Hong Kong (wholly owned by MLA Foundation) and PolyU CESEF Center work together to form a partnership to explore the possible integration between ESG and MLA (Management as a Liberal Art) concepts.
The partnership program is to promote the understanding and application of how MLA Leadership concepts can be integrated into ESG entrepreneurship. The current problem of ESG integration is a lack of clear road map to integrate social and financial return to implement ESG initiatives. We believe that MLA leadership practice is able to provide a CSR framework to understand social return from the management's perspective. The goal is to advocate companies and NGOs to adopt Drucker's management principles by combing social return and financial return to implement ESG initiatives. ESG is a more concrete way to achieve business sustainability, which is in line with the philosophy of MLA leadership and Drucker's idea of management as a liberal art. Such a MLA framework for measuring social return should be instrumental for ESG integration, which is an important objective of CESEF.
Key deliverables 
The expected output will focus on identifying challenges and solutions to apply MLA in ESG entrepreneurship. Two roundtables will be organized for managers and executives to gather knowledge and wisdom and one symposium to disseminate findings from roundtables and research conducted. DAHK and CESEF will jointly write up a report to be available for DAHK. A summary version of the report will be available to both DAHK and CESEF for free download in our own websites.
Preliminary Concept Design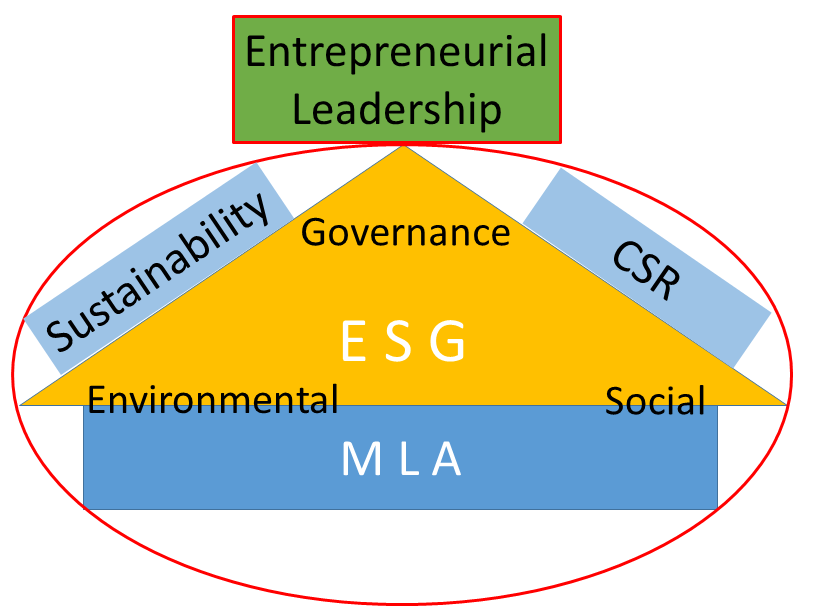 Sustainability-Entrepreneurship-Leadership Framework
(SELF)

The project is now closed in a satisfactory manner for both PolyU CESEF and Drucker Academy