Student Sharing Session
I am Yu-Kan Tang, a year 4 student in Chemical Technology. I have gone to University of Southampton (UoS) in United Kingdom for a semester of academic exchange (2018/19 semester 1). I am planning to pursue postgraduate studies next year and the experience gained in UoS broadened my horizon and better prepared me for further study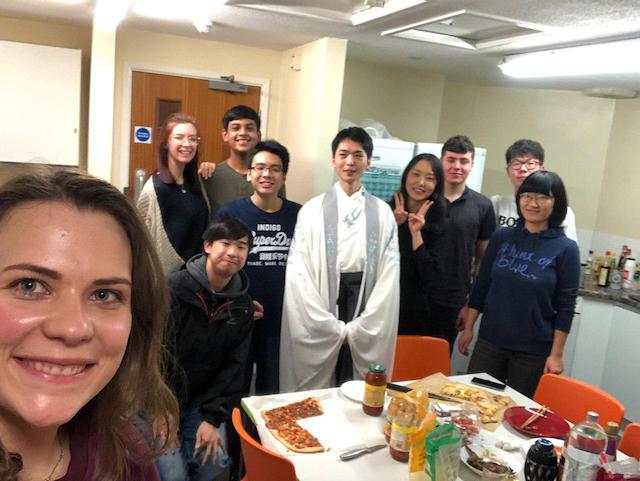 In UoS, the most impressing for me was the learning attitude of the UK students. Although the students may not fully understand the content of lecture, they treasure every learning opportunities and show high respect to the lecturers.
It was surprising that the lecture halls were full in every single lecture, including the classes at 9 a.m and 5 p.m. The attendance indicated that nearly no student skipping classes although the time schedule may not be user friendly. Comparing the situation in PolyU, skipping classes are rather common among students. I did not mean to judge the behavior of my peers in PolyU, but I really inspired by the learning attitude of UK students. In the lectures in UoS, every students focus on the lecture and the learning atmosphere is a lot better than that of PolyU. As a result, I was more motivated to learn and concentrated in the lectures.
As a student often skipping class and disturbing the lectures, I felt guilty during the exchange since I started realizing the importance of having a good learning atmosphere. The learning efficiency and motivations are much higher under a great atmosphere. It give me a chance to review how should I attend lectures so as to contribute to a better learning atmosphere in the future.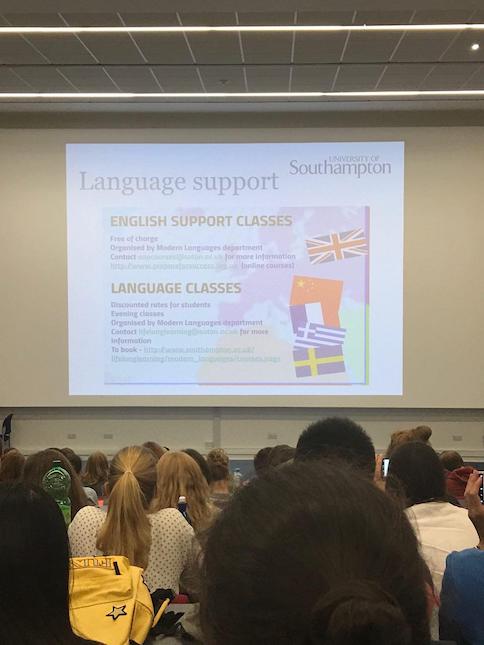 Another example of great learning atmosphere in UoS is that recordings for every single lecture are available and the recordings were extremely helpful for revision as some important points may be missed during the lectures and listen the lecture again gives a better understanding of the content. It was particularly important for students who stuck in new concepts. Perhaps, PolyU may introduce this in future.
I am Joshua Chow, studying in Chemical Technology in the Hong Kong Polytechnic University. In the last semester (2018/19 semester 2), I went to the National University of Singapore for an exchange program. I would like to share my great experiences in Singapore which changed me a lot.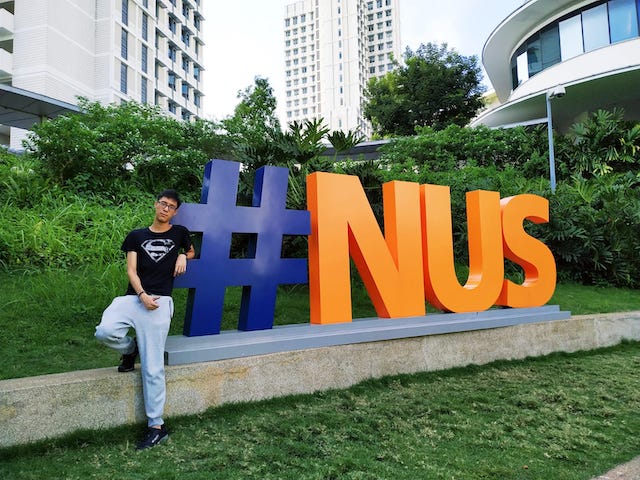 I would like to start with a brief introduction of myself. My childhood is full of joy and love. My parents want to give me the best and they always worried of me to get hurt. Therefore, I admit I am egocentric, overprotected, introvert and sometimes shy. Because of my introvert personality, piano playing is one of my hobbies and I seldom do sport. Living independently outside my hometown is something outside my comfort zone, yet it is full of fun and makes me more mature.
Although the major ethics group in both Hong Kong and Singapore is Chinese, there is a big culture difference between these two modern cities. The most striking difference is the discipline of all Singaporeans. For example, the earliest class is at eight o'clock. Although students may have to wake up before the dawn, most of them arrived on time and the class attendance rate is usually higher than 85%. I believe that Singaporeans are highly disciplined and less obese because of the compulsory military service (for male). In that experience, Singapore students are trained to obey the superiors. I admire that attitude and think that discipline would be important for my success. As a result, I am trying to wake up early, have more self-control and spend less time so that I could execute my plan more efficiently and finish scheduled tasks on time.
One of the interesting things I noticed is that Singaporeans really love physical exercises and workouts. Compare to people in Hong Kong, they enjoy a more healthy lifestyle. You may find someone running on the street most of the time. There are also many sports clubs in NUS, such as sailing club, diving club, etc, which attract much more memberships than those campus sport clubs in Hong Kong. Surprisingly, music is not as popular as sports. It is impossible to find a piano practice room in the whole NUS campus. It is because the Singapore government tries very hard to promote the importance of exercises on health. I was infected, and I am going to build up my exercising habit to keep fit in Hong Kong.
After my exchange experience, I found that each country has different cultures. And living with them would be the best way to broaden my horizon and realize how our views differs. Moreover, the characteristics of myself become better than before.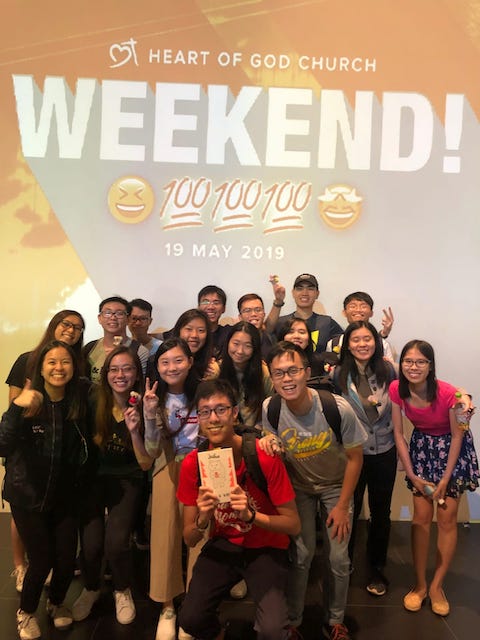 Background
My name is Tommy, a year four student in Chemical Technology. I'm glad to get the chance to have academic exchange to the National University of Singapore during my final semester (2017/18 semester 2). No doubt to say, PolyU & NUS are both Asian-leading universities. However, the cultural differences is significant. After my 4.5 months' life in Singapore, I realized that outbound study made me more independent, more comfortable in communicating in English, and equipped me with better time-management & socializing skills.
Study in Singapore
To graduate, I was supposed to take two level 3 and two level 4 electives to fulfill the credits requirement only. However, to transfer the credits into PolyU successfully, I just need to pass the modules in NUS. That's why I took four level 4 modules that is not available in Hong Kong. They are Art & Methodology of Total Synthesis, Organic Spectroscopy, Advanced Coordination Chemistry, and Sustainable & Green Chemistry.
Art & Methodology of Total Synthesis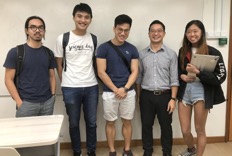 In this module, I studied the total synthesis of some useful natural products & their derivatives. Both general and advanced strategies are covered. PolyU's Organic Chemistry I & II discussed lot of reaction mechanisms of typical organic reactions and some famous and powerful reactions. It does fit me out to exam the retrosynthesis of more complex desired products. To pass this module, there was a group project about total synthesis of an anti-cancer drug needed to be present. Hence, me and my teammates did look over many papers from literatures. I think PolyU could also try to assess students through group project in the Organic Chemistry modules. The topics could aim for practicing students' skills for retrosynthetic analysis since in final exam we also had this kind of questions. Meanwhile, after graduation, we always work as a group and give oral presentation in workplaces. Hence, university should be a platform to educate students have all-rounded development.


Organic Spectroscopy
This module covers mass spectroscopy, infrared spectroscopy, and nuclear magnetic resonance (1D- & 2D-NMR) spectroscopy. The main foci of this module are skills in spectra analysis. What I learnt in Analytic Chemistry I & II and Advanced Analytical Techniques equipped me fully on the working principles of these instruments, that form a solid background for me to understand the realationships between chemical structure and spectral signals. In PolyU, I already learnt how to analyze spectra from laboratory classes. Thus, the most interesting and challenging part in this module is 2D-NMR since only research students having the chance to study 2D NMR spectrum in HK.
Advanced Coordination Chemistry
Throughout the lectures, it covers electron transfer in the mixed-valence compounds, metal-ligand multiple bonds, metal-metal bonds and some inorganic biology. The knowledge learnt from PolyU's Inorganic Chemistry I & II, such as constructing Molecular Orbital diagrams, the concept of sigma donation & pi-back donation are crucial to digest the new knowledge here.
Sustainable & Green Chemistry
In this module, content is focus onto the 12 principles of green chemistry. Most time was contributed for their individual assessment and group project. Concept of sustainability, environmental fate, metrics for environmental risk evaluation, material & energy balance in physical & chemical processes, sustainable processes are covered.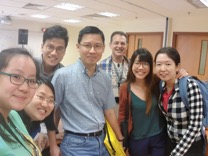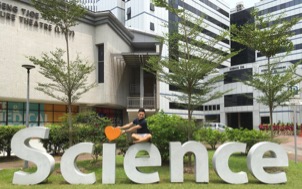 Life in Singapore
Isolating yourself is definitely easier to cause mental problems. For me, making friends is certainly a must. Some may go to church. My strategy firstly was kept greeting to everyone loudly with self-confidence. This is a simplest way for ice-breaking and leaves a good impression. A simple greeting may also be a good starting point to exchange contacts so that they can invite to join some activities whenever they wish.
Aleks is an Australian, he was one of my close friends I made in Singapore. He was living in the same level as me in the student dormitory and we knew each other since the first night in Singapore. We share similar personalities and both of us like to share our stuff with all cluster mates. We went to supermarket together regularly and shared cooking utensils, detergents and foods with each other. I would say we lived together like symbiotic. Aleks introduced his best friend, Soth, to me. Soth lived in the next block, so we 3 always go to gym, play sports and study in library together.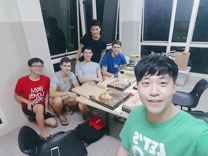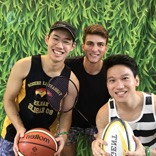 NUS provided a recess week before midterm tests. Study is important, but I did manage my time and money spending well to find some ways for exploration. During recess week, I travelled around Penang with Soth for 3 days and made some new friends from Netherland since we lived in the same room in hostel in Penang. I also had a cycling day with Rachel (a Singaporean, I knew her before because she came to PolyU for study exchange during last semester) and her classmates. Near the end of semester, we also held a birthday party for her friends.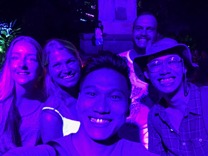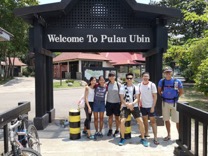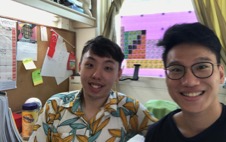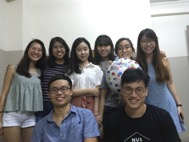 My life in Singapore was full of fun and bondings with people from different cultural backgrounds. We respect each others and we all kept carrying on our friendly smile to cheer others up. I would conclude, being kind and well-planned are the keys to well beings in new environments (perhaps, also true for familiar environment).