Experience and Opportunities
Outstanding Alumni Award of PolyU ABCT 2022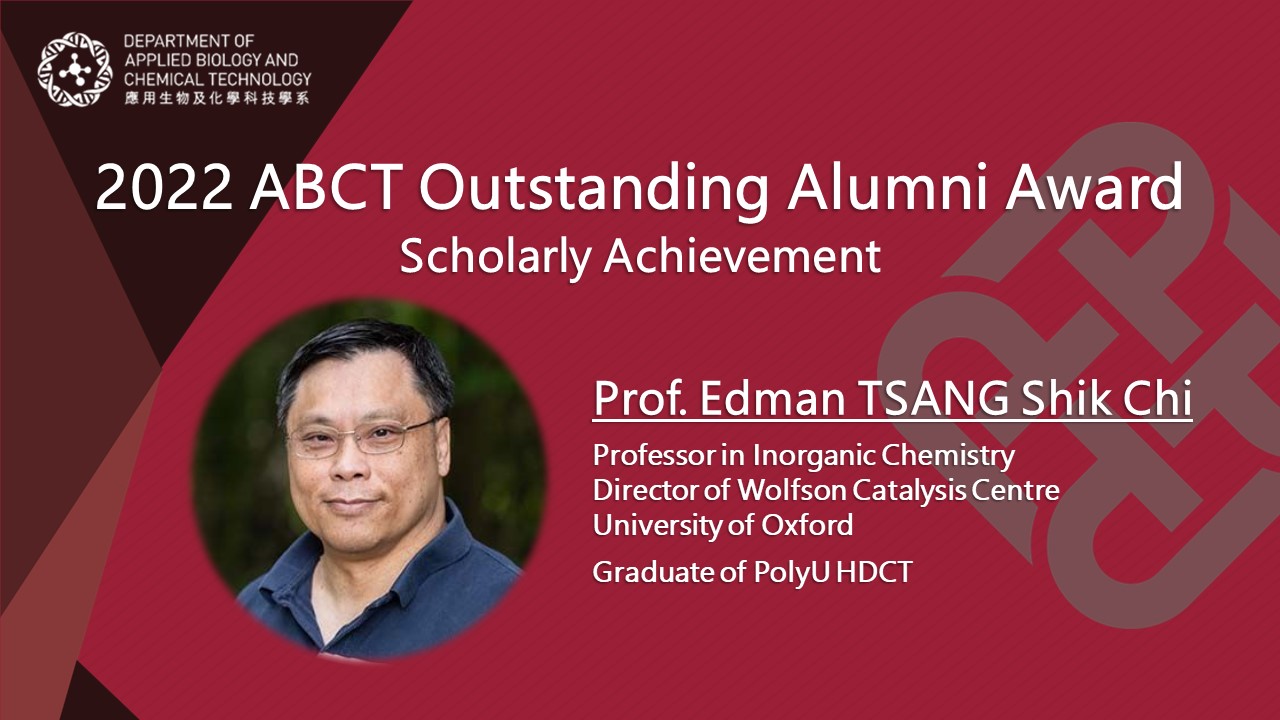 The Outstanding PolyU Alumni Award (OPAA) aims to give public recognition to outstanding graduates of ABCT for their professional achievements and significant contributions to the community and their alma mater.
Awards are conducted at three levels (Department level, Faculty level and University level) under four categories (Professional Achievement, Entrepreneurial Achievement, Scholarly Achievement and Community Service Achievement). Selection of Outstanding Alumni is based on the nominee's accomplishments in his/her personal achievements in the field, contributions to the community, and support and contributions to PolyU.
We are pleased to announce that Prof. Edman TSANG Shik Chi has been selected as the 2022 ABCT Outstanding Alumni in recognition of his scholarly achievements. Prof. Tsang is a CT High Diploma graduate from our Department and is currently a Professor of Inorganic Chemistry and Head of Wolfson Catalysis Laboratory at the University of Oxford. With his world leading expertise in chemistry materials and green catalysis, Prof. Tsang has won a number of international awards and has published more than 450 referred publications including Science, Nature and Nature sister journals with more than 23,146 times citations and h-index of about 72, 6 book chapters and 16 patents. Also, as an alumni of PolyU he has been proactive in working with PolyU scientists and students in related areas.
Let's congratulate Prof. Tsang on winning the award!
For more details of the OPAA, please visit the AADO website