PolyU JUPAS Consultation Day 2021: Admissions Strategies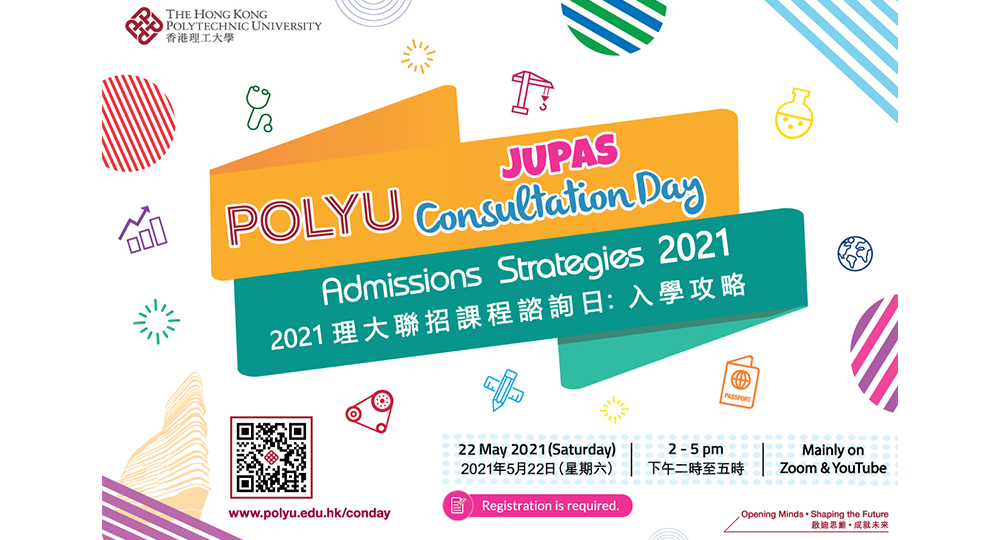 Organiser

Academic Registry
Summary
"PolyU Online JUPAS Consultation Day 2021: Admissions Strategies" will be held online on Saturday, 22 May 2021 (2-5 pm). 
It provides an excellent opportunity for JUPAS applicants to make the wisest choice before reprioritizing programme choices. A seminar on "Admissions Strategies ad Interview Skills" will equip themselves with essential interview skills and strategies for programme selection. Other than that, academic units will organize programme talks, consultation sessions and other activities. Through these activities, participants will understand more about the entrance requirement, curricular and characteristics, and campus life.
Aviation Engineering - BEng (Hons) [JS3507] Info Seminar & Consultation Session
Date & Time:  22 May 2021 (Sat) 3:00 – 4:00 p.m.
                       (3:00 – 3:45 p.m. Info Seminar and 3:45 – 4:00 p.m. Q & A Session)
Registration Deadline: 20 May 2021 12:00 noon