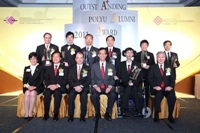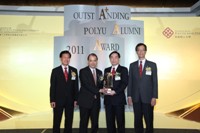 Ir Tsui Tack-kong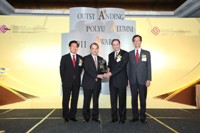 Professor Thomas Ho Hang-kwong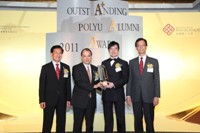 Ir Professor James Lau Chi-wang
On 19 April 2011, outstanding PolyU alumni were honoured in a dinner ceremony at the Inter-Continental Hotel. Jointly organized by PolyU and the Federation of The Hong Kong Polytechnic University Alumni Associations since late 1996, this biennial award aims to give public recognition to the outstanding graduates of PolyU for their accomplishments in their professions and their contributions to the community.
Three of the winners for this year's Outstanding PolyU Alumni Awards were once students in construction-related disciplines at what was then known as the Hong Kong Technical College, the predecessor to the present Hong Kong Polytechnic University. The oldest honoree, Ir TSUI Tack-kong, graduated more than 40 years ago. The other two, Prof. Thomas HO Hang-Kwong and Ir Prof. James LAU Chi-wang, were also outstanding alumni of the Department of Building and Real Estate (BRE) and the Department of Civil and Structural Engineering (CSE) respectively at the FCLU Congregation and Prize Presentation Ceremony in November last year. Following are their profiles of excellence.
Ir TSUI Tack-kong
Diploma in Building /1959 (Hong Kong Technical College)
Ir TSUI is the Managing Director of T.K. Tsui & Associates Limited. He started his career at the Public Works Department of the Hong Kong Government and the China Light and Power Co. Limited before setting up his own development consulting firm in 1973. He is an Authorized Person, a Registered Structural Engineer and a Registered Geotechnical Engineer with over 50 years' experience in the construction field. He is a Fellow of The Institution of Structural Engineers and was the First Chairman of its HK branch in 1979.
Ir TSUI is actively involved in local charities. He has been a Director of Pok Oi Hospital and Yan Oi Tong. He is also a consultant to many non-profit making societies. Ir TSUI has given unwavering support to his alma mater over the past decades. He is a Founding Member of the PolyU Development Foundation and has sponsored various fund-raising events of the university. In 2009, Ir TSUI conceived and found the "Wall of Pride" in commemoration of the 50th anniversary of his graduation and the early development of the institute. He also serves as a Senior Advisor to the President on various on-going campus development projects.
Professor Thomas HO Hang-kwong
Higher Diploma in Surveying/Building Technology (General Surveying) /1971 (Hong Kong Technical College)
After graduation, he was fortunate enough to join the civil service and was sent to the UK for training in all aspects relating to land administration, town planning, law and real estate valuation. His ensuing 19 years in the Hong Kong Government have given him invaluable experience in land administration, land acquisition and land economics. In 1991, he joined the MTR Corporation as their Property Director. The Hong Kong political climate was very uncertain at that time with the interminable discussions on the return of sovereignty. The restriction of 50 hectares of land disposal per annum came into being then. With his professional background and experience in the Government, he was able to mastermind large-scale property development projects at the five stations along the Airport Express Railway, getting the consent of not only the then Hong Kong Government, but also the Land Commission of the Joint Liaison Group. That was a pioneer land disposal concept unheard of before his time. He was able to convince the then Hong Kong Government to grant a single lot of land to MTR in advance for development with the land premium payable in phases afterwards. Without that concept, large-scale developments like the International Finance Centre, the Kowloon Station and the LOHAS Park in Tseung Kwan O would not have been possible.
Serving on both the MTR Corporation Board and the Executive Committee, Professor HO has played a key role in developing and managing all properties above and adjacent to MTR stations and depots. His great endeavours in publicizing and realizing the MTR integrated "Rail + Property" development model have not only shaped the urban landscape, but have also brought dignified civilisation to high density development. The concept of seamless integration between railway, road transport and other functions like shopping, living, working and hotels in one-stop shop has inspired many mayors of big cities in Mainland China and the west. Due to the convenience that the underground railway provides, Hong Kong people are fond of living and working directly above MTR stations. As a result, car ownership has been kept at the lowest possible level, i.e. only about half a million, in contrast to other big cities in the world. The rail-and-property model has greatly helped MTR to finance the capital expenditure of its railway extensions. It is his personal wish that he could export his accumulated skills and experience to places outside Hong Kong where underground railway systems are required.
He is particularly proud of two iconic projects, namely, the 88-storey high International Finance Centre (IFC) at the Hong Kong Station and the 118-storey International Commercial Centre (ICC) at the Kowloon Station, which have now become the gateway of the Victoria Harbour. With the help and understanding of friends and Government officials at the time, it was possible for him to secure the planning permission for these two developments, which have since become a symbol of Hong Kong's status as a world-class city despite their controversial height.
He is modest about being one of the first outstanding BRE alumni, for he feels many of his friends, colleagues and development partners are more deserving of the award than himself. Without their unreserved support and counsel, he would not have been able to plan, build and complete so many developments along various railway extensions since the early 1990s. He is extremely thankful to the panel of judges of the first outstanding BRE Alumni Award for their recognition, and to the Technical College for nurturing so many professionals in the building and construction industry. He hopes that PolyU will continue to prosper with the growth of Hong Kong and Mainland China for many more years to come.
Currently, Prof. HO is a Fellow of the Royal Institution of Chartered Surveyors and the Hong Kong Institute of Surveyors, a member of the Organizing Committee of The Community Chest of Hong Kong, as well as an Honorary Professor of the Department of Real Estate and Construction of The University of Hong Kong (HKU). He is also an Adjunct Professor at PolyU and strongly supports the Department of Building and Real Estate, where he serves as a member of the Departmental Advisory Committee.
Ir Professor James LAU Chi-wang
Higher Diploma in Structural Engineering /1968 (Hong Kong Technical College)
Professor LAU is Managing Director of James Lau & Associates Limited and Fong On Construction Limited. He obtained his Master's degree in Structural Engineering from The University of Manchester and earned a PhD in Geotechnical Engineering from the University of London. Later, he became a Barrister-at-Law from the Gray's Inn in the UK. Professor LAU's professional qualifications have enabled him to be a registered structural and geotechnical engineer specializing in construction laws, contracts, and project management.
Professor LAU is a Fellow of Hong Kong Institution of Engineers and The Institution of Structural Engineers. He was also a former Vice President of the Institution of Structural Engineers. Through active participation on government boards and committees, he has contributed his professional expertise to the community. He is currently a member of the Town Planning Board and the Wong Tai Sin District Council, where he has served for over 7 years. As a District Councilor, he learned that a good engineering design must have three elements: it should be technically sound, cost-effective, and above all, satisfy human needs. In 2009, he was awarded the Bronze Bauhinia Star. Professor LAU has also been a strong supporter of education, sharing his valuable experience as an Adjunct Professor of several tertiary institutions, including PolyU.
Every time Prof. LAU returns to PolyU, he cannot help but be amazed at the great changes that have appeared on the campus. According to him, there are currently 3 major construction projects at PolyU. These projects all have a very tight time schedule. They have to be completed by June 2012 before the launch of the new 4-year degree programmes. The President has appointed him as one of the Senior Advisors on the construction of these projects, the designs of which are very impressive. By the time they are completed, they will have altered the landscape of the Tsim Sha Tsui and Hung Hom areas. He is very pleased that he has played a part in PolyU's transformation.
Perhaps because of the opportunities that have come his way, Prof. LAU feels indebted to his alma mater. His teachers have also taught him much when he was studying to be a civil engineer. He treasures the basic training he was given more than 40 years ago. By basic training, he means the basic principles and concepts of engineering, which have served him extremely well in his subsequent work as a design engineer, as a contractor, as a legal practitioner and as an expert witness.
During his career as an engineer, he used to encounter many legal problems, so he decided to get a law degree. After a brief stint as a barrister, he returned to engineering, which was more attractive to him because it allowed him to create, design and build. Over the years, he has designed many hotels and holiday resorts in Asia. Every time he is on holiday in South-East Asia, there is a very good chance that he may be staying in one of his creations. Whenever that happens, he has really enjoyed the experience.
However, he does not regret having a legal qualification. In the many cases where he has appeared in court, he believes that the verdict or award would have been very different if the engineers involved in the dispute have had some basic legal training. He has made this known to the advisory committees of the local universities, which has led to the introduction of a number of law courses to the civil engineering programmes. He has taught law for civil engineers at HKU, a minor degree programme in law for engineers at the Hong Kong University of Science and Technology as well as the MSc programme in construction law and arbitration at PolyU.
Prof. LAU has also supervised the design projects of civil engineering students at HKU. Every year, a group of 7 students has spent one year working on a project chosen by him. He has always selected projects that can benefit the people living in Wong Tai Sin. In his first lecture, he would remind students to remember the human aspects of design. There is no point in designing something that is technically sound and cost-effective if nobody will make use of the final product. He wants students to consult the local people fully before they commence their design, which should be from the bottom-up. In this way, there will be less resistance from the local people once the projects are completed.
Having learnt much from serving as a District Councilor, he strongly encourages university graduates to participate in local politics. As far as he is concerned, engineering, serving the people and local politics can work together perfectly well. He hopes that more engineers can become councilors to serve the people of Hong Kong.
FCLU would like to take this opportunity to congratulate all three outstanding alumni, whose accomplishments will no doubt inspire a new generation of students to follow in their footsteps.