click on the photos to see the enlarged images
CSE Professor co-author of new book
A new book titled Moving Loads - Dynamic Analysis and Identification Techniques has been coauthored by Prof. Siu-Seong LAW of PolyU's Department of Civil & Structural Engineering and Dr Xin-Qun ZHU of the University of Western Sydney. Providing a comprehensive treatment on the interaction phenomenon that is very common between different components of a mechanical system, it is the eighth volume in a series of books published by the CRC Press on structures and infrastructures. Using the vehicle-bridge system as an illustration of the moving load problem, this volume begins with detailed descriptions of the dynamic behavior of continuous beam, beam-slab type bridge deck, and multi-box spline bridge decks under the passage of moving loads. It then addresses moving load identification problems with simple methods for universal application and with specialized techniques. A final chapter treats problems associated with the practical application of moving load identification techniques.
Intended for working professionals and postgraduates interested in such phenomenon, this book will come in handy on the job and in more advanced studies. Kudos for Prof. LAW and his coauthor for shedding light on an important topic in structural engineering.
<Top>
CSE Professor advocates sustainable waste management in SCMP
In a letter to the editors of the South China Morning Post on 9 February 2011, Prof. C.S. POON, Director of the Research Centre for Environmental Technology and Management at PolyU, wrote about the need for the government to formulate policies that would make waste management more sustainable. Besides having incentives for the public to reduce and recycle more waste, the government must also provide appropriate measures for communities that would be affected by waste management facilities located near them.
According to Prof. POON, Hong Kong's growing waste problem will not go away unless the government takes concrete steps to contain it. This may include the implementation of a waste disposal charge, the development of thermal waste treatment facilities, as well as the building of environmentally-friendly incinerators.
<Top>
IRE Programme reaching new heights in its 10th anniversary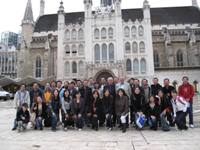 IRE students in the U.K.
The MSc in International Real Estate (IRE) programme, the only academic programme offered by FCLU's Department of Building and Real Estate at the PolyU outpost at Zhejiang University in China, will reach its 10th Anniversary in 2011/12. This programme first started in Hangzhou in 2002. To date, it has recruited nine cohorts of part-time students and produced over 200 graduates who have gone on to become senior business executives, government leaders and high-calibre professional practitioners in the mainland real estate industry. The programme continues to attract high-calibre mainland students who aspire to be Chartered Surveyors after graduation.
The IRE programme provides mainland students with a unique opportunity to learn and experience overseas real estate practices without having to spend the entire study period outside of China. Over the years, the programme has built up its reputation and increased its recognition by seasoned real estate professionals. In November 2010, Mr. K.L. WONG, Chief Executive of the Hong Kong Housing Society, flew to Hangzhou and gave a presentation about elderly housing development strategy to IRE students. Other high-profile practitioners who have previously spoken as part of the IRE programme included: Mr. William CHAN, Director of Kerry Properties (Shanghai); Mr. Edmund HO, Managing Director of DTZ (North China); Mr. Henry LI, RICS China Board Chairman; Mr. Alex TSE, Vice President of Pramerica Real Estate Investors, amongst others. All these talks have received overwhelming student responses.
The IRE programme combines traditional classroom teaching with two international study visits to outside universities. In the past, IRE students have visited the United Kingdom in a trip that was organized by the Cambridge International Land Institute of the University of Cambridge. This year, a visit organized by the University of Illinois at Urbana-Champaign will expose students to real estate development practices in Chicago of the United States.
<Top>
PolyU's Most Outstanding Student bags another Scholarship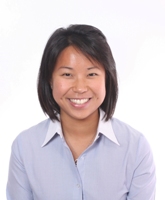 Ms Lee Yeuk Ying
Success has followed PolyU's most outstanding student of 2010, Ms LEE Yeuk Ying, Krystal, who has recently been named a recipient of a Sir Edward Youde Memorial Scholarship 2010/11 to the tune of HK$20,000. One of the most prestigious scholarships in Hong Kong, the award aims to recognize and encourage academic achievements of full-time undergraduates, diploma and certificate students at post-secondary and tertiary levels in Hong Kong.
Now that she is almost finished with her studies for the Bachelor of Science in Surveying at the Department of Building and Real Estate (BRE), Krystal is honoured that she can serve as an example for other students. According to her, the scholarship application process has been rewarding enough, giving her a chance to reflect on her humble academic start in the Higher Diploma programme in Building Technology and Management at PolyU. After that, she was inspired to make the transition to study for a degree. She strongly encourages others to aim high and follow their dreams.
She would like to take this opportunity to thank her family, friends and mentors who have supported her in her studies, especially Prof. TENG Jin-Guang, Dean of the Faculty of Construction and Land Use, and Prof. Geoffrey Qiping SHEN, Department Head of BRE, who nominated her for this scholarship. To show her gratitude, she has joined the Sir Edward Youde Scholars Association, an organization of past and current award winners who are committed to making a difference in the future development of Hong Kong.
<Top>
BRE students awarded for their dissertations
Three 2010 graduates of the Department of Building and Real Estate (BRE) were recently honoured for their excellent dissertation reports. Mr CHUNG Chi Wa Vincent, a full-time graduate of the BSc(Hons) in Surveying, won the Champion Award in the "Student Project Competition 2010" organized by the Safety Specialist Committee (SSC) of the Hong Kong Institution of Engineers (HKIE) as well as a Merit Award in the "Occupational Safety and Health (OSH) Best Project Award 2010" competition organized by the Occupational Safety and Health Council (OSHC). His dissertation was an evaluation of the effectiveness of the Safety Management System in repair, maintenance, addition and alteration works in Hong Kong.
The other winners were Mr CHIU Wing Cheong Gerald and Mr KO Shun Wei Chris, both part-time graduates of the MSc in Construction and Real Estate. The former won the Champion Award in the MSc Degree category of the "Student Project Competition 2010" organized by the Safety Specialist Committee (SSC) of the HKIE. His winning dissertation was entitled "Developing a Decision Support System for Measuring the Safety Performance of Construction Projects Undertaken by Small to Medium-sized Construction Companies in Hong Kong". The latter won a Merit Award from OSHC for his empirical study of the Pay for Safety Scheme for new public housing projects in Hong Kong. All the awards came with certificates and cash prizes. The students who won were all supervised by Dr Daniel W.M. CHAN, an Associate Professor of the BRE Department.
<Top>
LSGI & BRE Students Honoured for their Community Service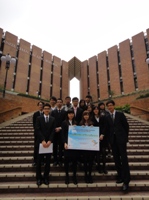 BRE students
LSGI students
At the Community Service Learning Award Presentation Ceremony 2009/10 on 19 January 2011, FCLU was well represented by students from two of its departments. The highest honour, the Gold Award, was given to a group of students from the Department of Land Surveying and Geo-Informatics (LSGI), while students from the Department of Building and Real Estate received a Certificate of Excellence for their outstanding performance in the Campus Improvement Project of Island Hostel of the Hong Kong Student Aid Society.
To develop students' sense of social responsibility and commitment to the community, LSGI and the Student Affairs Office jointly organized a community service learning project "Lian Us Together" in the summer of 2010. The LSGI team planned a renovation project for a primary school in Liannan, a hilly remote small town on the northern edge of the Guangdong province populated by the Yao tribe. Due to limited resources, the school's playground was unsurfaced and students frequently tripped over during school activities. Surveying data were used to generate a simulated 3D model that facilitated the local government's approval of the project as well as minimized frustration and errors.
Besides improving the school's infrastructure, the LSGI students also increased their awareness of Yao culture, domestic stress and the need for environment protection in remote areas. Collaborating with students from 8 other academic departments at PolyU, they organized a series of activities for the mainland students. With support from PolyU and help from their advisors, the LSGI students turned a project from conception into reality, making a great impact on the lives of many Liannan school students.
By serving the community, students of both departments have been able to make practical use of their knowledge and skills, renewing their confidence in the applicability of their learning. For them, it is indeed more blessed to give than to receive.
To see further details of the project for the Gold Award, please visit the following webpage: http://cslp.lsgi.polyu.edu.hk/10Liannan/index.htm
<Top>
BRE Scholar receives Distinguished Alumni Award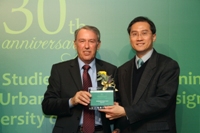 Prof. Tang receiving his award from Prof. Hills
Prof. Bo-sin TANG, Associate Head of the Department of Building & Real Estate, has received the Distinguished Alumni Award from the Centre of Urban Studies and Urban Planning (CUSUP) of the University of Hong Kong in January 2011.
CUSUP was established in 1980 and renamed as the Centre of Urban Planning and Environmental Management (CUPEM) in 1991. On 1 July 2008, it was restructured with the Department of Urban Planning and Design (DUPAD) in the Faculty of Architecture to continue the teaching of urban planning as well as related areas in housing management and transport. With the reorganization, CUSUP was able to continue its interdisciplinary research in urban studies and planning. The 2010-11 year marks the 30th Anniversary of the founding of CUSUP.
Prof. TANG earned his MSc in Urban Planning with distinction from CUSUP in 1987. He received the Award from the ex-Centre Director, Prof. Peter HILLS, during the CUSUP 30th Anniversary Dinner held at the Hong Kong Convention and Exhibition Centre on 7 January 2011.
<Top>
CSE & BSE shine at PTeC Award Ceremony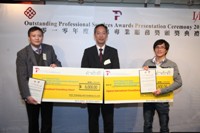 Prof. Ni receiving the PTeC awards on behalf of his team
On 11 February 2011, the PolyU Technology & Consultancy Company Ltd. (PTeC) held a ceremony to honour the winners of its Outstanding Professional Services Awards 2010. Two of the Faculty's departments were in the limelight. The Department of Civil & Structural Engineering (CSE) won two awards: one for being the Most Active Department in terms of the highest aggregated invoiced value during the last financial year (the amount was over HK$ 19 million) and one for Maximum Staff Participation, with 53.3% of its academic staff engaged in consultancy work. Not far behind was the Department of Building Services Engineering (BSE), which merited an award with 42.9% of staff participation.
Individual awards were also given to two academics from CSE and one from BSE. Prof. NI Yiqing and his team at the Structural Health Monitoring Centre won twice for their consultancy projects for overseas clients. Their design and implementation supervision of structural health monitoring as well as their inspection, maintenance and management system for the Qingdao Bay Bridge had the highest contract value (winner of the Highest International Consultancy) while their development of a structural health monitoring system for the new Shenzhen Stock Exchange headquarters also merited an award.
The other academic from CSE who won a Merit Award for the Most Valued Project was Prof. William H.K. LAM. His speed map panels (SMP) for the New Territories were the result of an innovative solution algorithm he developed in collaboration with Autotoll Ltd. They displayed the estimated traffic speeds and the duration of time required for travel on various road segments. The implementation, operation, and maintenance of the SMP system for 8 years will cost a total of HK$ 74.5 million. The system is expected to be launched in early 2012. It will aid logistics operators in fleet management as well as the general public for planning their daily travel by cars.
Last but not least, Dr FONG Nai-Kong of BSE was named the winner of the Most Active New Consultant Award. He generated the most aggregated consultancy income as a first-timer in the 09/10 financial year.
<Top>
Visitors from the Hong Kong Construction Association Bone up on Sustainable Technologies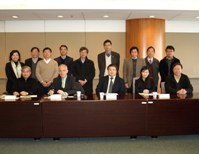 Visitors and Hosts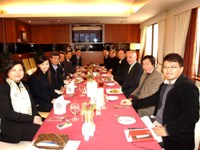 Sharing ideas over lunch
On 19 January 2011, 8 researchers from the Faculty of Construction and Land Use (FCLU) presented the latest building technologies for a sustainable construction industry to some members of the Hong Kong Construction Association (HKCA).
In attendance were the Director of Kaden Construction Ltd., Mr Hon Ping CHOY; the Deputy Regional General Manager of Kumagai Gumi Co. Ltd. (HK Branch), Mr Russell JONES; Mr Vincent LAU and Ms Carmen WONG, both from Yau Lee Construction Co. Ltd.
Jointly organized by FCLU and the Management and Executive Development Centre of PolyU, the round table sharing session was composed of brief presentations by academics, a luncheon and lab visits. Presenters included Prof. Geoffrey SHEN, Prof. Heng LI, Dr Andy WONG and Dr Shichao FAN of the Department of Building & Real Estate; Prof. Shengwei WANG and Prof. Hongxing YANG of the Department of Building Services Engineering; Prof. Chi-sun POON and Prof. Jian-hua YIN of the Department of Civil & Structural Engineering.
From technologies for monitoring performance of geotechnical structures to renewable energy technologies to the application of advanced information technologies in the construction industry, the range of topics gave the visitors a broad overview of sustainable building technologies. They also had a chance to visit the Construction Virtual Prototyping Lab, the Concrete Technology Lab, the Solar Energy Lab, and the Intelligent Building Lab, each with their own state-of-the-art technologies to carry out cutting-edge research.
<Top>
Faculty Public Lectures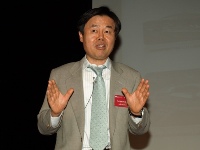 Professor Jong-Soo KIM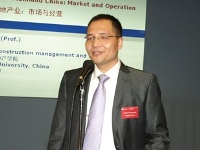 Professor Guiwen LIU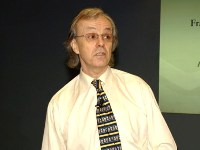 Professor Richard FELLOWS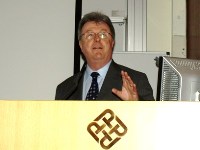 Professor Michael C. FORDE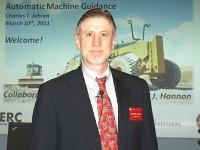 Professor Charles T. JAHREN
The Faculty of Construction and Land Use was honoured to have the following speakers giving public lectures at PolyU:
Professor Jong-Soo KIM, President, C S Structural Engineering Inc. and Adjunct Professor of Korea University, was speaker at a public lecture on "Recent Progress of Spatial Structures in South Korea." (14 February 2011)
Professor Guiwen LIU, Professor, Faculty of Construction Management and Real Estate, Chongqing University, gave a public lecture titled "Real Estate in Mainland China: Market and Operation." (21 February 2011)
Professor Richard FELLOWS, Professor of Construction Business Management at Loughborough University, gave a public lecture on "Managing Across Boundaries: Fragmentation in Construction." (25 February 2011)
Professor Michael C. FORDE, Carillion Professor, School of Engineering, University of Edinburgh, was speaker at a public lecture on "Nondestructive Test (NDT) Methods for Evaluation of Concrete in Structures." (10 March 2011)
Professor Charles T. JAHREN, Associate Professor of Construction Engineering at Iowa State University, gave a public lecture titled "Electronic Modeling and Data Transfer for Automated Machine Guidance." (11 March 2011)
Dr Herbert BIGGS, Associate Professor, Queensland University of Technology, gave a public lecture on "Construction safety: Development of safety competencies and an assessment tool to reduce risk on building sites." (14 March 2011)
<Top>
Faculty Distinguished Lecture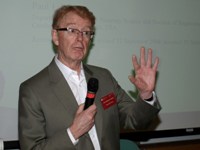 Professor Michael B. McELROY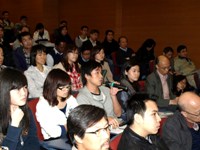 The Faculty of Construction and Land Use was honoured to have Professor Michael B. McELROY, Gilbert Butler Professor of Environmental Studies at Harvard University, give a Distinguished Lecture on "Climate, Energy and the Environment: Challenges for a Sustainable Future" on 18 March 2011.
Prof. McELROY is a world renowned atmospheric scientist. He was appointed a full professor at Harvard University at the age of 29, the youngest full professor at Harvard. He has held a number of important posts since, including the founding Chair of the Department of Earth and Planetary Sciences (1986-2000) and the first Director of the Harvard Center for the Environment (2001-2004). He is also a Fellow of the American Academy of Arts and Sciences, the American Association for Advancement of Sciences, and the American Geophysical Union. He has served on the China Council for International Cooperation on Environment and Development, which is currently chaired by Vice Premier LI Ke Qiang.
His research covers a wide range of topics: planetary atmospheres, stratospheric ozone, tropospheric chemistry, biogeochemical cycles, and global climate. He is the author of more than 250 technical papers and several books, including a recently completed book on a low carbon energy future.
<Top>