click on the photos to see the enlarged images
Recent Accomplishments of Academic Staff Members
2010 was a good year for Prof. WANG Shengwei, Chair Professor of Building Services Engineering in the Faculty of Construction and Land Use (FCLU) at the Hong Kong Polytechnic University (PolyU). Besides the publication of his definitive textbook on intelligent buildings and building automation, accolades for his work have followed one after another. At the China International Industry Fair in Shanghai last November, he won an Innovation Award for his energy-saving technology based on the life-cycle diagnosis and optimization of buildings. In the same month, at the National HVAC and Refrigeration Conference in Hangzhou, his paper titled "Enhancing Building Cooling Load Measurement Using Data Fusion Technique" won the Outstanding Paper Award. Around the same time, the Chartered Institution of Building Services Engineers (CIBSE) shortlisted his work with Sun Hung Kai for the 2011 Building Performance Award, the final results of which will be announced after the Chinese New Year.
Other professors recognized for their achievements included Prof. TANG Bo-sin of the Department of Building & Real Estate and Prof. NI Yi-qing of the Department of Civil & Structural Engineering. Prof. TANG received a Faculty Award for his excellent teaching, while Prof. NI received the President's Award for his prolific research and scholarly activities. Both of them were honored in a ceremony at the Jockey Club Auditorium on 26 November 2010.
Teamwork was also rewarded at the ceremony. Prof. Frank S. C. LEE of the Department of Civil & Structural Engineering and two of his colleagues Dr HO K. F. and Mr Jazz CHAN, along with 2 staff members from the Facilities Management Office (FMO) and 4 from the Health, Safety, and Environment Office (HSEO) were acknowledged for their work on a 5-year project to investigate underground explosive gas and assess the impact of high-risk pollutants emission from laboratories on the PolyU campus. They won a Faculty Award for Outstanding Performance in the Team category for their services that led to a change in the campus policy of allocating centralized laboratories with a specific strategy to deal with high risk laboratories and ultimately made PolyU a safer place for all.
<Top>
Recent law publications
Hong Kong University Press recently published three books by Mr Stephen D. MAU, lecturer in law in the Department of Building and Real Estate. The three works are as follows:
Contract Law in Hong Kong: An Introductory Guide

Property Law in Hong Kong: An Introductory Guide

Tort Law in Hong Kong: An Introductory Guide
Some of Mr MAU's other works have also been recently published. Kluwer Law International recently brought out a chapter by Mr MAU entitled "Arbitration in the Hong Kong Special Administrative Region", in a special issue of The Comparative Law Yearbook of International Business carrying the title `International Dispute Resolution'. Another of Mr MAU's article, entitled "The Proposed New Arbitration Law of Hong Kong" was published by Construction Law Journal.
<Top>
Seminar on "Partnering for Construction Excellence – A Reality or Myth?"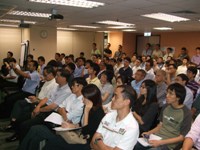 Full house participation by industrial practitioners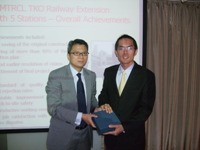 Souvenir presentation to Dr Daniel Chan (R) by Ir Dr Michael Yam (L)
"Partnering" has been recognized and applied worldwide as an innovative management approach to procuring construction services, so as to foster collaborative working relationships and to enhance overall project performance.
On Monday, 27 September 2010, Dr Daniel W.M. CHAN, Associate Professor in the Department of Building and Real Estate (BRE) at PolyU, conducted a technical seminar on construction partnering at the headquarters of the Hong Kong Institution of Engineers (HKIE). Dr CHAN's expertise is in Construction Project Management, and he has abundant experience in both research and consultancy work on construction partnering accumulated over the past decade. The seminar covered the development and application of construction partnering in Hong Kong. It included its definitions, essential elements, implementation processes, benefits, difficulties and factors for success. These were supplemented by some case studies for illustration. The seminar was very informative and well received by over 80 attendees. It concluded with some interesting questions and insightful answers.
<Top>
16th Congregation of FCLU
The 16th Congregation of Faculty of Construction and Land Use (FCLU) proceeded with pomp and great fanfare at the Jockey Club Auditorium on 22-23 November 2010. Officiated by the Dean of the Faculty, Prof. TENG Jin-Guang, the ceremony awarded over 1,400 degrees/ diplomas to deserving students. Besides awarding current year graduates, the Dean also presented prizes to outstanding alumni and students from each of the four departments in the Faculty as well as students on the 2010 Dean's Honours List. Staff members receiving the Dean's Awards were given certificates to commemorate their achievement.
The Department of Building and Real Estate, the biggest department in FCLU in terms of student numbers, graduated over 500 students, including those receiving Higher Diplomas and Master's degrees. The Department of Civil and Structural Engineering graduated nearly 400 students; the Department of Building Services Engineering graduated over 350 students; the Department of Land Surveying and Geo-Informatics graduated close to 110 students. All in all, the 16th Congregation was a memorable event for everyone who attended.
Photo Gallery:
http://www.polyu.edu.hk/fclu/Photo/Photo_Congregation2010/
<Top>
PolyU hosts International Cartographic Association (ICA) Workshop on Theories of Map Design in Digital Era
More than 30 international participants from about ten countries attended the ICA Workshop, held by the Department of Land Surveying and Geo-Informatics (LSGI) of PolyU on 23 and 24 September 2010, on the PolyU campus.
The Workshop, on the theme "Theories of Map Design in Digital Era", was jointly organized by PolyU and the ICA Commission on Theoretical Cartography. Its opening ceremony was officiated by Prof. Alex WAI, Vice President (Research) of PolyU, Prof. William CARTWRIGHT, President of ICA, and Mr WONG Chung-hang, Deputy Director of Lands Department of the Hong Kong Special Administrative Region.
The opening ceremony was followed by two keynote speeches, one by Prof. CARTWRIGHT and the other by Prof. Deren LI, Academician, Chinese Academy of Sciences and Chinese Academy of Engineering. There were more than 30 plenary speeches and group discussions which were grouped under six sub-themes, namely:
Special session in memory of Jacques BERTIN,

Cartographic theory and philosophy,

Theory of map design,

Communication and information theory,

Semiotic and symbolization,

Concepts and models.
The ICA Workshop is a valuable platform for researchers on several counts: to discuss state-of-the-art research, problems and issues in the theories of map design in the digital era; to present advanced theories and cutting-edge technology; and to exchange ideas and promote international collaborations.
Over the past 50 years, ICA has had a tradition of co-organizing international workshops with local universities so as to promote the exchange between local professionals and international experts. This year, the organization of the Workshop under the joint efforts of PolyU and ICA had given a valuable opportunity to Hong Kong professionals to share knowledge and experiences with many international attendees.
<Top>
PolyU hosts the 6th Annual Seminar on Spatial Information Science and Technology (ASSIST'10)
The 6th Annual Seminar on Spatial Information Science and Technology (ASSIST'10) was successfully held by the Department of Land Surveying and Geo-Informatics (LSGI) on 22 September 2010 at PolyU. ASSIST'10 attracted more than 70 participants from government departments, industrial sectors, and the academia. Ten authors had been selected to present their papers at the seminar. Prof. DING Xiaoli, Head of LSGI, welcomed all the participants and guests in an opening address.
The presentations and papers covered a wide range of subjects in Spatial Information Science and Technology (SIST). The experts who gave them were from transportation, observatory, architecture, construction, environment monitoring, and university sectors. Their presentations on their latest research and engineering works clearly demonstrated the present wide applications of the SIST in various government departments and industries in Hong Kong.
This annual seminar is an inter-disciplinary platform for leading researchers and professionals from various sectors in Hong Kong to present their latest findings in and exchange their views on SIST.
<Top>
Shenzhen-Hong Kong Energy and Environment Workshop Promotes Research Collaboration between PolyU & Peking University
Who says research has to be a solitary journey? To facilitate the collaboration of like-minded researchers working in the broad areas of Environment and Energy, a workshop was held on 20 December 2010 in Shenzhen University Town's library. Sponsored by the School of Environment and Energy (SEE) of the Peking University Shenzhen Graduate School (PKUSGS), workshop participants included the Hong Kong Polytechnic University (PolyU) Faculty of Construction and Land Use (FCLU) Dean TENG Jin-Guang and eleven other FCLU professors, leaders from the Nanshan District Association for Science and Technology, US National Academy of Engineering Member Dr WANG Jawkai, the Director of Shenzhen Jawkai Bioengineering R&D Center, Ltd. and around a dozen SEE professors.
The opening ceremony consisted of three speeches by Peking University's SEE Dean GENG Xu, Nanshan District Association of Science and Technology Vice-President CHENG Kanghou and PolyU FCLU Dean TENG Jin-Guang. All three expressed their desire to further Shenzhen-Hong Kong relations and their commitment to the development of the environment and energy sectors in the region.
Participants in the workshop shared their latest research advances in areas such as water resources, wastewater treatment, bioenergy, green building technology, solid waste treatment, air quality as well as environmental law and policy. They also had the opportunity to interact with others with similar research interests. This was vital for the workshop's goal, which was to expand collaboration between PolyU and PKUSGS, encourage free exchange and discussion and, ultimately, form specific collaborations in seven focus areas: green building technology, energy efficiency and conservation, landfill gas filtration and treatment, urban heat islands, environmental policy and law, heavy metal pollution as well as atmospheric photochemistry.
For both organizers and participants, the Shenzhen-Hong Kong Energy and Environment Workshop was a complete success. New ties were generated and mutually beneficial partnerships were identified. The fruits of the workshop would take some time to grow, but the seeds of collaboration have been sown.
<Top>
Collaboration with Industry on Solar Photovoltaic Technology Development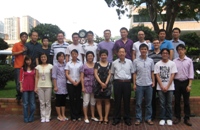 Members of the Renewable Energy Research Group (RERG)
The Renewable Energy Research Group (RERG) in the Department of Building Services Engineering (BSE) at PolyU, has started a collaborative venture with Trony Solar Holdings (Hong Kong) Limited, a Shenzhen-based and world-leading manufacturer in thin-film solar photovoltaic. On 2 September 2010, a collaboration agreement was signed in the Science Park by Prof. H. YANG, leader of RERG, and Mr Y. LI, company chairman of Trony Solar Holdings, for developing thin-film building integrated photovoltaic panels and advanced solar cells.
RERG has developed its strength in the research and development of solar photovoltaic applications in buildings and solar cells, especially the dye-sensitized solar cell. This collaboration with Trony Solar Holdings will further enhance the link between our research and its use by industry. The company has provided us with research funding of HKD 1.8 million through a scheme entitled 'Guangdong-Hong Kong Technology Cooperation Funding Scheme Research.' This Innovation and Technology Fund project has greatly enhanced our research and development capability in this area. A number of RERG members are now working on this project, under the leadership of Prof. H. YANG and Dr L. LU of BSE.
<Top>
PolyU hosts the 1st International Conference on Sustainable Urbanization
More than 300 leading experts, researchers and industry practitioners from over 25 countries and regions gathered in Hong Kong from 15 to 17 December 2010 to participate in the First International Conference on Sustainable Urbanization (ICSU) organized by the Faculty of Construction and Land Use of PolyU.
The three-day Conference was officially kicked off in mid-December at the Harbour Grand Kowloon Hotel by Professor Timothy W. TONG, President of PolyU, and Professor J.G. TENG, Dean of the Faculty of Construction and Land Use. Speaking at the opening ceremony, Professor TONG said, "Promoting sustainable urban development is one of our top priorities. We hope this Conference will contribute to making Hong Kong a greener city and a knowledge/ technology centre in this important area."
Four prominent international and local experts delivered keynote speeches at the Conference. They included the Vice Minister of Housing and Urban-Rural Development from the People's Republic of China, Dr QIU Baoxing; the Secretary for Development of Hong Kong's Development Bureau Mrs Carrie LAM Cheng Yuet-ngor; Professor Martin A. GREEN of the University of New South Wales, Australia; and the Chairman of Ruentex Engineering & Construction Co. Ltd., Dr Willie LAI. The Honourable Ms Marjorie YANG, Council Chairman of PolyU, also delivered a speech at the banquet on the second day of the Conference.
According to the organizer, massive high-density urbanization in many parts of the world, often in regions where the available land and resources are limited relative to the size of the population, has posed many challenges for society. Such challenges include the provision of effective urban infrastructures (e.g. transport systems), adequate housing, sufficient energy and water supplies, a clean environment, and sustainable community support systems to meet people's needs.
Generously supported by many organizations, ICSU provides an international forum for the scientific/engineering community to examine these challenges, and to find effective solutions to ensure a sustainable process of urbanization as well as sustainable management of urbanized areas.
Photo Gallery: http://www.polyu.edu.hk/fclu/Photo/icsu2010/
<Top>
PolyU Education Info Day 2010
The PolyU Education Info Day 2010 was conducted successfully on Saturday, 25 September 2010. This is an annual event at the Hong Kong Polytechnic University, organized to familiarize prospective applicants with the programmes available at the University, as well as the programmes' supporting facilities and resources.
The exhibition of the Faculty of Construction and Land Use on the PolyU podium, which showcased our Undergraduate and Higher Diploma programmes, opened with the pricking of a balloon. The Opening Ceremony was officiated by the Acting Dean, Prof. Geoffrey SHEN, the Associate Dean (Research), Prof. K.T. CHAU and Heads of Departments. There were also information seminars and laboratory visits. This year, our information seminars recorded a very good attendance. Over 200 attendees were at the seminar on BSc (Hons) Surveying, while the one on BSc (Hons) Property Management had some 180. Visitors were also impressed by our exhibits and demonstration sessions held on-campus.
Photo Gallery:
http://www.polyu.edu.hk/fclu/Photo/fclu_infoday2010/
<Top>
LSGI Department Visited by Scientist from Makerere University, Uganda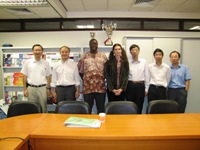 Dr Gidudu and some LSGI academic staff
The Department of Land Surveying and Geo-Informatics (LSGI) of the Faculty of Construction and Land Use was visited by Dr Anthony GIDUDU, Senior Lecturer from Department of Surveying, Makerere University, Uganda, from 28 September to 1 October 2010. The purpose of the visit was for Dr GIDUDU to exchange experiences with LSGI colleagues on curriculum designs for Geomatics programmes. Makerere University was then in the process of redesigning its Geomatics programme. The curricula of programmes offered in LSGI were thought to be useful to Makerere University for reference purposes.
During his stay in LSGI, Dr GIDUDU also gave a presentation on the topic of "Ensemble Classification for Land Cover Mapping" to LSGI staff and research students. Professor DING Xiaoli, Head of Department, and staff of the Department also had discussions with Dr GIDUDU regarding potential collaborations between his department and LSGI.
<Top>
Faculty Provides Top-Up Funding for Admitting Research Students
The Faculty launched the One-year Top-up PhD Studentship Scheme in the 2009/10 academic year to encourage FCLU colleagues to use their external grants for the admission of research postgraduate (RPg) students. Under this scheme, a top-up grant for one-year of a three-year PhD studentship is provided to a colleague who admits a PhD candidate using his/her external competitive grants (e.g. GRF grants), or other external research grants (provided that such use of funding is permitted by the funding body) to cover the remaining cost (i.e. the other two years of a three-year studentship, the associated money (if any) and a conference grant). The one-year top-up grant is provided by the Faculty and the department concerned on a 50%:50% matching basis (i.e. with each party contributing $80,100).

The Scheme supported 7 applications in the first round of the 2009/10 academic year and 7 applications in the second round of the 2010/2011 academic year respectively. These 14 successful applications are as follows:
PhD Candidate

Department

Supervisor(s)

Mr CHEUNG Man Wai

BRE

Prof. TANG Bo-sin

Ms Angel LAW

BRE

Dr WONG Chi-ning*

Ms CUI Dong Jin

BSE

Dr C.M. MAK

Ms HU Rong

BSE

Prof. J.L. NIU*

Mr MA Tao

BSE

Prof. YANG Hongxing*
Dr LU Lin
Prof. ZHANG Yin ping (Tsinghua University)

Mr SHI Xiao Feng

BSE

Dr C.M. MAK*
Prof. YANG Jun (Institute of Acoustics Chinese Academy of Sciences)

Ms HUANG Du Ruo

CSE

Prof. K. F. CHUNG

Mr LI Bo

CSE

Dr LAM S.S.*

Mr LIN Jing Hua

CSE

Prof. XU You-Lin*
Dr XIA Yong
Dr ZHU Song-Ye

Ms LIU Kun

CSE

Dr LAW S.S.*
Dr ZHU X. Q. (Queensland University of Technology)
Dr XIA Yong

Ms XU Lijie

CSE

Prof. CHU Wei

Mr ZHAN Bao Jian

CSE

Prof. C.S. POON

Mr SHAHZAD Muhammad Imran

LSGI

Prof. Janet NICHOL

Mr ZHU Wu

LSGI

Prof. DING Xiaoli
* Chief Supervisor
<Top>
The Most Outstanding PolyU Student in 2010
The Faculty of Construction and Land Use (FCLU) is proud that the Most Outstanding PolyU Student Award in 2010 has been won by a final year student in the Department of Building & Real Estate, Ms LEE Yeuk Ying, Krystal, who is no stranger to winning awards. Since she began her university studies in 2007, she has won one scholarship after another and was on the Dean's Honours List twice, a testimony not only to her academic excellence, but also her active participation in numerous extra-curricular activities and community service projects. Her keen involvement in these has developed her leadership abilities, which she first demonstrated in 2006 by attracting sponsorships from a major bookstore and a former member of the Legislative Council when she was Deputy Head of the Department of Communication & Public Relations of the HK International Model United Nations, an organization mostly made up of secondary students.
Since then, she has organized a Service & Exchange Trip to Hangzhou, where she and her team were commended for their Community Service Learning Project. She also served as an Aquatics Assistant in the summer of 2009 in an International Camp Counselor Program in Pennsylvania in the U.S. Recently, she went on a Study Tour of the Shanghai Expo. Her overseas experience has made her more independent and confident of herself. Courage, commitment, and consideration have been her personal core values. She is passionate about the built environment. By choosing to study for a BSc (Hons) in Surveying, she hopes to create a better place for all to live in. Krystal is truly a role model for girls who aspire to work in the construction industry.
The Most Outstanding PolyU Student Award comes with a cash prize of $5000 and a certificate, which will be presented to the winner in a ceremony on 28 February 2011. Before she was selected for this coveted honor, Krystal was chosen to be the Most Outstanding Student in FCLU in the same year. She competed with 7 other outstanding students who had won a similar award from their respective faculty/ school for the Most Outstanding PolyU Student Award.
<Top>
The CIB Sebestyen Future Leaders Award 2010
Key award-winning contributors: From right to left: Mr Wang Hao, Mr Wei Yigang, Mr Hong Yuming, Ms Lisa Tao Li, together with Prof. Francis Wong, an Advisor of the PolyU's CIB Student Chapter
The Hong Kong Polytechnic University Student Chapter of the International Council for Research and Innovation in Building and Construction (CIB1), affiliated to the Faculty of Construction and Land Use, had won the prestigious CIB Sebestyen Future Leaders Award 2010.

The foremost purpose of the Award was to enable future leaders of the building sector to have more exposure to the latest developments in building research, so that in later life they would understand the value of supporting good research. The Award also aimed to stimulate collegial cooperation between staff and students in the Chapters, and the free exchange of information between the Chapters.

The proposal from the HK PolyU Student Chapter was entitled "Web-based Visual Platform for Real-time Communication and Collaboration Among the CIB Student Chapters." Developed jointly by Mr HONG Yuming, Miss TAO Li, Mr WEI Yigang and other committee members of the HK PolyU CIB Student Chapter, it was devoted to the development of a separate platform for real-time communication and the exchange of ideas among all CIB Student Chapters around the world, which had not been hitherto possible.
1CIB is the acronym of the abbreviated French (former) name: "Conseil International du Bâtiment" (in English this is: International Council for Building). In the course of 1998, the abbreviation has been kept but the full name changed into:
INTERNATIONAL COUNCIL FOR RESEARCH AND INNOVATION IN BUILDING AND CONSTRUCTION

<Top>
PolyU first-year student at the 16th Asian Games
Failure is the mother of success. This is true of many things in life, and it is no exception in sports. Countless athletes have suffered the agony of defeat before they tasted sweet success. A similar lesson of trials and tribulations was learnt by LIN Po-Heung, Cyan, a full-time first year student for the BSc (Hons) in Property Management at the Department of Building and Real Estate. At the Asian Fencing Championship in Seoul last July, her team lost to the Singapore team, but she did not let the disappointment overcome her dream of competing in Guangzhou at the 16th Asian Games. To prepare for it, she went through much intensive training and competitions in Beijing, Shanghai, and Fukien before finally beating her former nemesis at the Asian Games last November by almost 10 points. Her team was awarded the Bronze Medal in Fencing for the Ladies' Foil Team Event.
With such promising results, Cyan hopes to continue representing PolyU and the Hong Kong Team in major competitions. She would like to thank all her supporters for making it possible for her to study and compete at such a high level.
<Top>
Learning Beyond the Campus
Student learning at PolyU is not confined within the boundaries of the university. Opportunities abound for students who are curious about the world-at-large to venture beyond the campus for more vicarious experiences. Just this past summer, a group of students from the Department of Building and Real Estate visited Shanghai to attend the Global Forum for College Students. Organized by the Jiao Tong University to promote the exchange of cultures, information, and knowledge, participating students were able to meet students from all over the world and learnt from them.
Students from the organizing university took our students to Chongming Island, an oasis of green efficiency in practice. Towering over the landscape were rows of wind turbines that were reminiscent of the iconic windmills of the Netherlands. Not only was it picturesque, but the island was a prime example of sustainable development. Everything about it was environmentally sound: chemical fertilizers were not used to grow food, wind and solar power provided energy to buildings, waste was recycled etc. Students learnt first-hand that eco-friendly development was not an oxymoron but very much a reality.
Continuing the theme of the progress made by China in its development over the last 30 years was a video that our students saw inside the China Pavilion at the Shanghai Expo, a star attraction of the 8-day trip. The featured exhibition here made it clear to students that China's urbanization could be sustainable in the future with the deployment of low-carbon technologies.
Students also had a chance to discuss global warming with their peers in a model United Nations conference. Representing the interests of different world powers, students learnt it was not so easy to come to a consensus when resources were not equally distributed. They also learnt about the culture of students from countries like Japan and New Zealand. It was a truly memorable and educational trip.
Closer to home, a handful of students from the CIB Student Chapter was given a tour of the Youth Square in Chai Wan by representatives of the Home Affairs Bureau, which commissioned its construction. The aim was to create a space for youths to explore and develop their interests. Students learnt about the relationship between form and function as well as their mutual interdependence.
It is evident from these visits that learning opportunities are everywhere. Students only need to be active participants to enrich their university experiences.
<Top>
Faculty Public Seminars
The Faculty of Construction and Land Use was honoured to have the following speakers giving seminars at PolyU:
Dr Hu Tao, Senior Environmental Economist, Policy Research Center of MEP Ministry of Environmental Protection (MEP); was speaker at a seminar on "Co-control of Air Pollutants and GHGs: what, why and how". (2 November 2010)

Prof. David J Drewry, Vice-President, European University Association and Honorary Fellow, Emmanuel College, University of Cambridge; gave a seminar on "Climate Change - Arctic perspectives". (5 November 2010)
Dr David Fisher, Chairman, Dynamic Architecture Group, United Kingdom; was speaker at a seminar on "Dynamic Architecture: Design by Logic, Art by Engineering". (25 November 2010)
Dr Haiying Huang, Associate professor, Department of Mechanical and Aerospace Engineering, University of Texas at Arlington (UTA); gave a seminar titled "Advance Sensor Technology for Structural Health Monitoring". (20 December 2010)
Prof. W.X. Zhong, Dalian University of Technology and Academician of Chinese Academy of Sciences; gave a seminar on "The Role of Symplectic Mathematics in Applied Mechanics and FEM". (19 January 2011)
Prof. J.H. Lin, Professor, Dalian University of Technology; was speaker at a seminar on "An Efficient Random Vibration Approach - Pseudo-Excitation Method and Its Engineering Applications". (19 January 2011)
Prof. Chia-pei Chou, Distinguished Professor, Department of Civil Engineering, National Taiwan University (NTU); gave a seminar on "Runway Skid Resistance Inspection and Grooving Performance Evaluation". (19 January 2011)
Prof. Julia King, Vice-Chancellor of Aston University, UK; gave a seminar titled "Technologies for Sustainable Transport". (20 January 2011)
<Top>