Researchers at the Department of Applied Physics have made green breakthroughs, inventing efficient semitransparent solar cells and eco-friendly ink for energy storage that maximise solar energy collection.
Low-cost semitransparent perovskite solar cells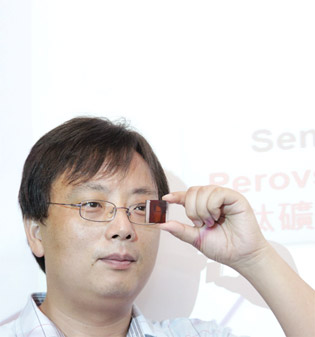 Solar energy is an important renewable energy, with solar cells used to convert light energy directly into electricity through the photovoltaic effect. Given the increasing demand for integrated photovoltaic systems, Dr Yan Feng's research team has developed the first-ever efficient, low-cost semitransparent perovskite solar cells with graphene electrodes.
The processing technique used to create the cells involves fabricating the solar cell with multilayer chemical vapour deposition graphene as top transparent electrodes, and contact optimisation between the top graphene electrodes and the hole transport layers on the perovskite films. The result is around 12% power conversion efficiencies, which is higher than that of conventional semitransparent solar cells. "Their semitransparent feature allows the cells to absorb light from both sides, significantly increasing the surface area for collecting solar energy," Dr Yan explained. The cells can be widely used in windows, facades, louvers and rooftops for converting solar energy into electricity.
The findings of this research have been published in Advanced Materials, a leading journal in materials science.
---